Hi all,
Require some assistance to get player/staff profiles created for all that have represented the club. Calling on anyone that has time spare to help with these. The profiles are used in the backend for a lot of things (including player ratings, linking commonly used shortnames, nicknames i.e. CNK automatically gets rewritten as Charnze Nicoll-Klokstad, Martin -> Te Maire Martin etc, princess ->
Shaun Johnson
etc. This is to help people who may not be as familiar to the team players as the posters are). It has been improved from previously, so that all player updates/"where are they now" are captured within the profile rather than a seperate thread. It also allows us a lot of flexibility by capturing this information for future improvements.
I have created an example :
https://nzwarriors.com/showcase/shaun-johnson.1/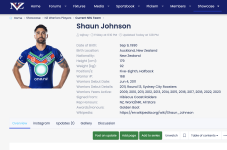 If you can help out with the data entry (i promise its easy), please drop a line on this thread so i can add you to a specific conversation where i outline step by step what needs to be done. Any help would be greatly appreciated.