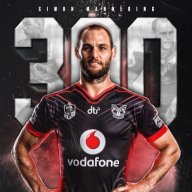 gREVUS
Long live the Rainbows and Butterflies
Contributor
I've got both eyes open when I watch Manu.

And he does score loads of tries, because he's 112 kgs, runs like a cheater and jumps like a something that jumps real good. But that's all down to natural talent, not skill.

When he does use his skills he catches balls with ease from all kinds of difficult positions and throws players over the sideline who should score tries.

But he all too often doesn't use his skills, and just fumbles around the park... And for that weakness he needs to spend some time in the Wulcans, just to be a role model to the lesser mortals out there who think they can play below their best and hold their spot in FG.

Have I kissed his ass enough? Ha Ha...
ed when you look at the stats (the only non biased record of his performance for the year) even in a losing team Manu often stands out as one of the top 3. In the last game of the season - a tragic disgrace - if the rest of the team had played at Manus level they would have won. And this isn't a one off performance.
You are heavily critical of his lack of skill vs his natural talent, but I just watched the GF and while they were gushing over the newest great winger (Tupou) I don't remember him taking a single hit up. Played brilliantly mind you, but his team worked around him, meaning he could focus on his role of support play and scoring tries. When the rest of the warriors team step up and Manu doesn't have to take every other run, he might have some energy left to convince you that he has the skill to be in first grade. In the meantime be grateful that hes there and not in the Vulcans, cause as the number 1 scorer of the last 5 (?) years (another fact not an opinion) while it its possible to replace him he wouldn't be my first choice of players to trade out