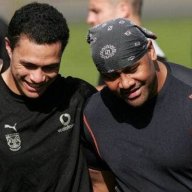 mt.wellington
Warriors Orange Peeler
Contributor
Everyone wondered where past warriors are upto these days?
On this thread we will try to keep an updated list of where players are upto. If you have any new information, please post with the players name and number and what they are upto and a mod will update this list.
This is by no means definative list. All care has been taken to make sure that all current statuses and links are up to date but if you feel one my be wrong then please let us know. We are keen on keeping this as up to date as possible as the players move and change.
Some of the links are to LinkedIn and you generally have to be signed up to view them.
Players with nothing next to their names are still contracted to the Warriors.
Still quite afew players that have fallen off the radar and we know nothing of their latest whereabouts (entry starts with ???). If know anything about them then please update us. Also some players are listed as being coaches or players but this is only a past time and we have no knowledge what they do for work or where.

This list is bound to be constantly evolving...

1 Dean Bell - NRL Warriors Recruitment
2 Phil Blake - Union Manly Marlins, NSW. Link
3 Sean Hoppe - Real Estate Agent in Bunderburg Area, Australia. Link
4 Manoa Thompson - Lives in Sydney, Australia. Works as a delivery driver and is the Vice Chairman of the Australian Fijian RL (Link). Father of Jarryd Hayne
5 Whetu Taewa - Builder in Cromwell, Otago. Link
6 Gene Ngamu - Groundskeeper
in Australia with Green Options.
Link
7 Greg Alexander - Channel 9 commentator
8 Gavin Hill - ??? Union College Rifles coach 2009
9 Duane Mann -NRL Warriors Academy and Pathways Manager. Link
10 Hitro Okesene - Living and working in construction in Carlisle, Cumbria, England.
11 Stephen Kearney - NRL Brisbane Broncos assistant coach and NZ Kiwis head coach
12 Tony Tatupu - NZ Police Officer in Auckland
13 Tony Tuimavave - ??? 2009 running a jet ski business in Apia, Samoa and was coaching Ponsonby Ponies
14 Se'e Solomona - ???
15 Tea Ropati - Executive manager of the Koru Trust. Link
16 Jason Mackie - ??? Have a line of enquiry Im following. Waiting for reply
17 Martin Moana - ??? Think he's still living in Halifax, UK
18 Joe Vagana - Mentor at Reaches Pacifica Mentoring. Link
19 Syd Eru - ???
20 Willie Poching - ESL Warrington head coach. Link
21 Logan Edwards - 2007 was coaching in Chch NZ under Mike Dorreen. Prison Guard at Paparua Prison.
22 John Kirwan - Union Super 15 Auckland Blues coach
23 Andy Platt - Owns a Motel in Mackay, Queensland, Australia. Link
24 Stacey Jones - NYC Warriors U20 coach
25 Mike Dorreen - Coached the 2013 Canterbury Bulls. Link
26 Richie Blackmore - ??? Was Business Manager at Leigh Centurions, Manchester, UK but think he's looking for a coaching job in NZ now. Possibly Rewa Marlins?
27 Frano Botica - Real Estate Agent at Harcourts Cooper & Co Mairangi Bay, Aucklan, NZ. Link
28 Denis Betts - ESL Widnes Vikings head coach Link
29 Marc Ellis - Entrepreneur. Has several business interests. Just quit his MoreFM gig in to spend more time with his young family.
30 Mark Horo - Coach of the Hills Sports High School in Seven Hills, NSW. Link
31 Mark Carter - ??? retired from Auckland NPC Rugby Union in 2000
32 Nigel Vagana - NRL Education and Welfare Officer and Samoa RLWC2013 Technical Adviser
33 Awen Guttenbeil - Media
34 Doc Murray - Co-coach of the Otumoetai Eels (Tauranga, NZ) and also referees Rugby League games
35 Iva Ropati - Principal of Howick College, Auckland, NZ. Link
36 Anthony Swann - Teacher in Singapore. Link
37 Brady Malam - ??? 2000 ESL Wigan Warriors
38 Bryan Henare - ??? 2003 was playing for Leigh Centurions, Greater Manchester, England
39 Aaron Lester - ??? Last played for Whitehaven RL, Cumbria, England in 2007
40 Matthew Ridge - Owner of Car-Fe and failed property developer
41 Grant Young - Living in Brisbane, Australia
42 Logan Swann - Real Estate agent at Ray White Remuera and does the odd media appearance.Link
43 Steve Buckingham - Coach of the Mt Albert Lions, Auckland, NZ
44 Shane Endacott - Stepped down as Halswell Hornets coach in 2012 (Link). Still living in Chch NZ.
45 Paul Staladi - ??? 2007 was working at Blomfield Special School & Resource Centre in Whangarei NZ.
46 Meti Noovao - ??? Believe he is living in Rarotonga. Link half way down page
47 Lee Oudenryn - Police Detective in Palmerston North
48 Aaron Whittaker - Living in Chch NZ and still involved with Halswell Hornets
49 David Bailey - ??? was last involved with the Ponsonby Ponies Auckland NZ.
50 Jerry Seu Seu - NRL Warriors Welfare and Education Manager
51 Kevin Iro -Lives in Rarotonga and works as the Commissioner of Cook Islands Rugby League. Link
52 Quentin Pongia - Personal Trainer at Fitness First (Link) and even played some league for Hay Magpies this year at 43yo. Link
53 Tyran Smith - Player agent with Sports Player Management Link
54 Zane Clarke - ??? Cook Island team 2000
55 Ali Lauitiiti - ESL Wakefield Trinity
56 Joe Galuvao - NRL Manly Sea Eagles just called quits on his career
57 Frank Watene - ESL Halifax RL Community Dev Manager Link and still playing in Yorkshire 2 comp. Link
58 Odell Manuel - Truck driver out Rockhampton, Queensland, Australia and record power weight lifter. Link
59 Jason Death - Director at Souths on Charlmers (Souths Leagues Club). Link
60 Terry Hermansson - ??? 2012 Pacific Sports Management. Link
61 Monty Betham - Works as boxing instructor at Boxing Alley. Link
62 Cliff Beverley - ??? Retired after playing for Waitakere Ranges 2007 Bartercard team
63 Peter Lewis - ??? 2006 played for Eels and Cook Islands.
64 Wairangi Koopu - Presenter on Maori TV CODE show. Think he was involved with coaching Pt. Chev Pirates?
65 Francis Meli - ESL, Salford City Reds
66 Clinton Toopi - NRL Titans 4 Tomorrow ambassador. Link
67 Carl Doherty - ???
68 Robert Mears - ??? Coached the 2010 Narellan Jets, NSW
69 John Simon - ??? Coached the 2010 Illawarra Titans
70 Boycie Nelson - Coached Glenora Bears and is still involved with the NZRL. Police officer in West Auckland
71 Talite Liava'a - ???
72 Scott Pethybridge - Coach of the Narrabeen Sharks A Grade team. Link
73 Ivan Cleary - NRL Penrith Panthers head coach
74 Matt Spence - ??? Coached the Turangi Dambusters in 2010. Link
75 Scott Coxon - living back in Newcastle, NSW.
76 Mark Tookey - Souths Logan and Raiders development official (Link) and coach of the Queensland U16 team. Link
77 David Myles - Business mentor and coach in Brisbane. Link
78 Paul Whatuira - Union Briars Rugby Club Strength, Fitness and Conditioning coach. Sydney, Australia Link
79 Ben Lythe - Personal trainer at Lythestyle Training. Link
80 Shontayne Hape - Just retired from Montpellier Hérault Rugby
81 Henry Fa'afili - Personal Trainer in Wellington and playing premier club rugby in the region
Link

82 Jason Bell - Works at Mobile Blinds & Security, Tweeds Head, NSW. Link
83 David Mulhall - General Manager - Corporate at Wests Tigers Rugby League Pty Ltd. Link
84 Jonathan Smith - ???
85 Henry Perenara - NRL Referee. Link
86 Kevin Campion - Business Development Manager, Queensland, Australia. Link
87 Richard Villasanti - Licensed Plumber in Canberra. Link
88 Justin Morgan - NRL Melbourne Storm Assistant Coach. Former ESL Hull FC head coach.
89 Jason Temu - ???
90 Motu Tony - ESL Hull FC Football Manager. Link
91 Nathan Wood - ???
92 Justin Murphy - runs Hotel in Toowoomba, Queensland, Australia. Link
93 Iafeta Paleaaesina - ESL Hull FC
94 Anthony Seu Seu - Working in Telecommunication Industry in Auckland, NZ. Link
95 John Carlaw - ???
96 PJ Marsh - Played for 2013 Barcaldine Tigers, Queensland.
97 Brent Webb - ESL Catalans Dragons
98 Sione Faumuina - Working as an Electrical Apprentice in Gladstone, Queensland, Australia. Link
99 Lance Hohaia - ESL St Helens
100 Vinnie Anderson - Played 2013 season with AS Carcassonne RL, France
101 Jeremiah Pai - Played in the 2013 Pt Chev Pirates team in Aucklands Fox Memorial
102 Evarn Tuimavave - ??? ESL Hull Kingston Rovers 2013 but has not been re-signed as yet.
103 Karl Temata - Still playing league at 35yo for Limoux Grizzlies, France. Link
104 Mark Robinson - Working at Klas Consultancy Ltd in London, UK. Link
105 Thomas Leuluai
106 Vince Mellars - ESL Wakefield Trinity
107 Tevita Latu - Living in Auckland. Played in the 2013 NZ Pirtek National Cup for Akarana Falcons
108 Jerome Ropati
109 Tony Martin - Finance Industry. Living in Gladstone, Queensland, Australia. Link
110 Epalahame Lauaki - ESL Wigan Warriors
111 Danny Sullivan - ???
112 Louis Anderson - ESL Catalans Dragons
113 Matt Jobson - ??? 2008 QLD Cup Easts Tigers
114 Paul Dezolt - ??? Last worked at the NRL Cowboys but is having serious health issues ATM. Link
115 Manu Vatuvei
116 Shannon Stowers - ??? 2010 American Football scout Link
117 Herewini Rangi - living in Gisbourne
118 Cooper Vuna - Union Japan Toshiba Brave Lupus
119 Kane Ferris - Playing for the Celebration Lions Chch Link
120 Paul Atkins - Teacher at Alfriston College in Manurewa as a Physical Education Teacher
121 Steve Price - MAGS 1st XIII coach
122 Todd Byrne - Freelance journalist in Sydney Link
123 Ruben Wiki - NRL Warriors Strength and Conditioning Coach
124 Nathan Fien - retired from NRL Dragons but will play in 2014 for, as well as coach, the Thirroul Butchers in next season's Illawarra District competition.
125 Simon Mannering
126 Micheal Luck - NRL, Cowboys Development Officer
127 Grant Rovelli - Playing for the Souths Sharks Mackay Australia
128 George Gatis - Retired from NQ Cowboys 2008. Runs Fish and Chip shop Link
129 Patrick Ah Van - ESL Widnes Vikings
130 Misi Taulapapa - He is playing for sheffield eagles in england
Link
131 Sam Rapira
132 Wade McKinnon - ??? Released from ESL Hull FC on compassionate grounds in 2012. Rumoured to re-sign with Tigers but didnt.
133 Michael Crockett - ??? 2012 NSW Cup Illawarra Cutters
134 Michael Witt - ESL London Broncos
135 Corey Lawrie - playing For the Hornby Panthers, Chch. Link
136 Aidan Kirk - ??? 2011, he joined the Terrigal Sharks in the Central Coast Division Rugby League competition
137 Brent Tate - NRL North Queensland Cowboys
138 Ian Henderson - ESL Catalans Dragons
139 Sonny Fai - Presumed drowned
140 Ryan Shortland - Union, Newcastle Falcons, England
141 Russell Packer - NRL Newcastle Knights
142 Ben Matulino
143 Malo Solomona - Played for Pt. Chevalier Pirates in their 2013 Fox Memorial team
144 Denan Kemp - NRL Brisbane Broncos
145 Joel Moon - ESL Leeds Rhinos
146 Jacob Lillyman
147 Leeson Ah Mau - NRL St George Dragons
148 Jesse Royal - Royal decided to retire after 2010 and return to Newcastle to work in the mines and play for local club Kurri Kurri Bulldogs
149 Ukuma Ta'ai - ESL Hudderfield Giants
150 Daniel O'Regan - Working as a builder in Auckland 2014. Last contracted to the NRL Melbourne Storm in 2010
151 Lewis Brown - NRL Penrith Panthers
152 Kevin Locke
153 Aaron Heremaia - ESL Hull FC
154 Isaac John - NRL Penrith Panthers
155 Siuatonga Likiliki - NRL Gold Coast Titans
156 James Maloney - NRL Sydney Roosters
157 Brett Seymour - ESL Castleford Tigers
158 Jeremy Latimore - NRL Penrith Panthers
159 Sione Lousi
160 Bill Tupou - NRL Canberra Raiders
161 Mataupu Poching - Played for Counties Manukau Scorpions in the 2013 NZ Pirtek National Comp
162 Alehana Mara - ??? Not re-signed by the Warriors and hasnt been offered another contract as yet
163 Glen Fisiiahi
164 Feleti Mateo
165 Shaun Berrigan - ??? Retired from NRL Canberra Raiders.
166 Krisnan Inu - NRL Canterbury Bankstown Bulldogs
167 Elijah Taylor - NRL Penrith Panthers
168 Shaun Johnson
169 Steve Rapira - ESL Salford Red Devils
170 Pita Godinet
171 Ben Henry
172 Nathan Friend
173 Konrad Hurrell
174 Omar Slaimankhel - Rugby Union Japan Canon Eagles
175 Sam Lousi
176 Sebastine Ikahihifo
177 Carlos Tuimavave
178 Dane Nielsen
179 Todd Lowrie - NRL Brisbane Broncos
180 Ngani Laumape
181 Suaia Matagi
182 Dominique Peyroux
183 Charlie Gubb
184 Sio Siua Taukeiaho - NRL Sydney Roosters
Special thanks to

mt.wellington

for creating the initial list.
Sorry

Weno

your original post has been edited to include the list.
Last edited: