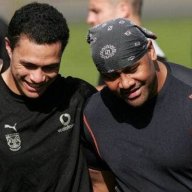 mt.wellington
Warriors Orange Peeler
Contributor
159. SIONE LOUSI
Last update
149 Ukuma Ta'ai - ESL Hudderfield Giants Still with Hudderfield. They came 3rd last season but lost both lives in the playoffs including a 57-4 thrashing by Wigan in week 1... https://www.giantsrl.com/locker_room/first_team/player?ukuma-taai
nzwarriors.com
Sione Lousi was still contracted to the Warriors during our last update in 2015. The following year he was released and joined the Townsville Blackhawks.
He actually only retired from rugby league in 2021 while still playing for the Blackhawks. He has built a house for himself and his family in Townsville and looks to be settled there now. Haven't been able to find what he is doing for work outside of his league commitments.
The 'little moments' behind another Blackhawk Sione Lousi's retirement

​

Sione Lousi has achieved more in his rugby league career than he ever could have hoped.

But it is the little moments he has missed in the past 12 months which led him to call time on his career.

The Blackhawks prop announced to his teammates prior to their elimination final loss on Sunday that he would be retiring at season's end, finishing with 68 appearances for the club and a legacy in his favourite number 22 jersey.

While he was determined to not end his playing days until he had helped deliver Townsville a maiden Queensland Cup title, Lousi said the birth of his daughter Remi in October changed his scope.

Missing small highlights of her life while being on the road for games struck a chord with the 31-year-old. And as his body began to feel the sting of more than a decade in top line football he said the timing felt right to kickstart his next chapter.

"I want to be at home now, plus the old body has had enough now. It takes longer to recover from games, so I thought it was time to hang it up and do some family stuff," Lousi said.

"It's hard leaving her for games and trainings … (and) I think it's just missing out on those little moments.

"My partner would send me stuff with what she's doing and I would think 'damn I missed that'. She started walking a couple of weeks ago … she took a couple of steps when I was at home but not as much when I was seeing the videos. That was the main one I was gutted I wasn't there for.

"Those little moments watching them grow, I've never had that before and this was my first full season with it. It was pretty challenging."

Lousi looks back on his time with the Steeden humbled by what he had achieved.

Initially he was determined to play just one game in the NRL. He would play 50 for the New Zealand Warriors and an international appearance for Tonga.

It is why Lousi said he did not think he would suffer from itchy feet once the Blackhawks return to pre-season training, having never been much of a fan of those long summer sessions anyway.

But while he does not regret anything in his career, he admitted there are some things he wished he could have achieved.

It was when Lousi's time with the Warriors ended in 2016 that he moved to Townsville, where he would meet his now wife — former Northern Rays vice-captain and Samoa Netball World Cup representative Brooke Williams.

However he said initially he relocated to North Queensland in a bid to resurrect his NRL career, something he was never able to achieve.

"The main one wasn't getting back into the NRL; that was a big factor with why I came up to Townsville. I came up here and broke my arm in the first game and thought it just wasn't meant to be," Lousi said.

"I tried my best at the time but I just fell away, and I think that was one of the little regrets. "Maybe not a regret, but just a sad thing that I couldn't make my way back into the NRL. "But I'm happy with how my life is, everything lined up and I wouldn't change it. Injuries played a big part in my career, that's not something I can control, but other than those little setbacks in my career I'm stoked with how many games I got to play in the NRL."

Lousi donned the Blackhawks colours for the last time in Sunday's 30-24 defeat at the hands of the Souths Logan Magpies, ending his hopes of retiring with a first Townsville title.

But the veteran forward said that elusive triumph was edging closer for the club.

While he would not be a part of that moment if and when it happens, he said the young talent the club had fostered would ensure the Blackhawks' future is bright.

"I honestly thought this year was going to be our year. I thought we were going to go all the way and unfortunately we fell short again," Lousi said.

"That made it tough, all the people that started Blackhawks and have been around the Blackhawks I wanted to bring in a premiership for before I departed.

"That (the loss to Souths Logan) was not the way I wanted it to end but it is what it is and the club is in good hands with a lot of young talent coming through."
r/NRLcowboys: NRLCowboys - A Subreddit for all your North Queensland Cowboys needs!
www.reddit.com
Ironically the Blackhawks would go on to win the Premiership in 2022. Meanwhile Sione had signed up to play for the New Brothers Grade A team. Very little online to show for it but he would only play one game that I can find. Brothers had an unbeaten season and won their Premiership as well.
​