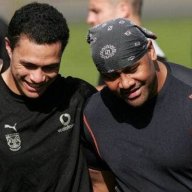 mt.wellington
Warriors Orange Peeler
Contributor
60. TERRY HERMANSSON
Last update
Just spent 6hrs sitting next to Daniel O'Regan on a flight from Bali to Sydney... Nice fella, massively tattooed since he left us. A lot smaller than i thought. ...and? Whats he up to? Wheres he staying? Is he still building in Auckland???
nzwarriors.com
Our 2015 update was of no use. Believed to be living in Christchurch but that was all we could find.
2022 update is no different. He's on Facebook but doesnt post public much. Only thing I could was this 2019 post from the Waimairi Beach Golf Club Inc in Parklands, Christchurch.

​
UPDATE: Thanks to
Akuma_81
we found an interview from the Sir Peter Leitch Facebook page from 2022 Warriors Old Boys day. Terry is working at the Lyttelton Wharf container terminal where he has been for 14 years.
​
Last edited: