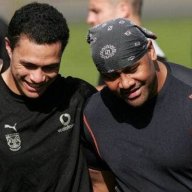 mt.wellington
Warriors Orange Peeler
Contributor
40. MATTHEW RIDGE
Last update
31 Mark Carter - ??? retired from Auckland NPC Rugby Union in 2000 Still have absolutely nothing on Sharky. Absolutely nothing. Wikipedia page has nothing and his name is too common to get much success with Google. If anyone is a member of an All Black or Blues page can you ask? Guy seems to...
nzwarriors.com
Matthew Ridge is still running his car cleaning company CARFE with his son Boston. They just launched a car cleaning product company called Autolabs Ltd and he also has a residential rental company he runs with his daughter Chloe. All companies are under the controlling interest of Ridges company Matthiass Ltd.
5 ways to get your vehicle looking pristine

​

20/06/2022
NRL Legend and car cleaning enthusiast Matthew Ridge and his son have long been known for their Carfe cleaning business. But now, the father and son duo have launched their own New Zealand made car care product range, Autolabs, which has been endorsed by Giltrap Audi.
Ridge says the company has cleaned more than half a million cars over the past 20 years. Here are his top 5 tips to get your vehicle looking pristine.

Matthew Ridge provides top 5 car cleaning tips upon launch of his NZ-made car care range, Autolabs...
www.driven.co.nz
Science-Backed Cleaning​
Our car care formulations are the result of continuous research by our chemical engineers in the lab and on the road. The results are a testament to the science of clean, alongside our passion for the drive.
Kiwi Innovation
Proudly developed in Auckland, NZ with over 20 years in the car detailing industry, and over half a million vehicles groomed. AUTOLABS has refined and extensively tested formulations to satisfy car enthusiasts and professionals.
Keep your car in top-notch form with AUTOLABS range of cleaning and detailing products. Shop online now with delivery all across New Zealand.
autolabs.nz