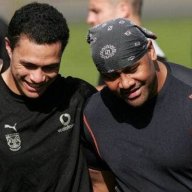 mt.wellington
Warriors Orange Peeler
Contributor
I don't expect this thread will see much light on the forum but it should, a Warriors side playing SG Ball and other junior level Warriors teams playing within the NSW competitions will be critical to our future success. It's where we've been going wrong for years.
Too right.
The other thing is the amount of players under 17 who have left our shores for Aussie teams. The numbers are truly staggering. I watched the Ellerslie U16 play Otara on Saturday and at least 18 players from both teams have been signed up with the bulk going to Aussie to play for Manly, Raiders and Sharks. The best of them have been signed to the Warriors but they just lost one of the top 3 from that whole age group to the Blues. 8 players from the Ellerslie team made the NZ U17 team which is astounding. One team in the whole of the country has supplied half the NZ team! One of them is Agnatius
Paasi
's little brother who plays 1st XV for Kings College on scholarship.
The club really need to start up a Harold Matthews team as well but Id hate to think how much that would cost to run. You'd think that supplying an SG Ball team will cut into the clubs community funds that looks after the Warriors Cup...