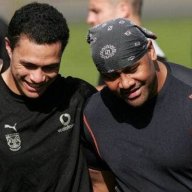 mt.wellington
Warriors Orange Peeler
Contributor
NRL: Lots to improve on to justify the hype
By
Michael Burgess
5:30 AM Sunday Apr 21, 2013
One win from six equals the Warriors' worst start to an NRL season in the club's 19-year history. Photo / Getty Images
The rebuild was always going to take time but it wasn't meant to be like this. The Warriors are second-to-last after just one win in six games. It represents the equal worst start in the club's 19-year history.
Only once before, in 2004, did the club statistically match the early results of this season. It's worse than the terrible years of 1999 and 2000, when players' wages went unpaid and the coaches had to pluck players from the Auckland club competition. It's worse than the 1998 season when the club finished 15th of 20 teams, and so far is worse than the 2009 season, when the club won seven games to finish third-from-bottom.
Warriors fans are used to ups and downs and there is a core renowned for their loyalty but the current situation is testing the patience of many. This wasn't what was expected after all the hype coming into 2013, with Eric Watson's words ("biggest single sporting franchise in Australasia") still echoing in our ears. At the moment, the Warriors are being compared with the miserable Mystics and hapless Highlanders.
There isn't much respite, with a match in Melbourne on Thursday followed by the visits of the Titans and Bulldogs.
The top eight seems a long way away. However, there is some hope and reasons to stay loyal.
What has improved
Defence
This side of the game is definitely better in 2013. There is a discernible structure and more steel; with the weight of Canberra's possession in the second half last week, the score might have ballooned out to 50 last year. There were strong defensive periods against the Roosters, Cowboys and Souths. Now, if only these could be extended to 80 minutes...
Conditioning
This is a marginal call but the team looks slightly fitter than last year. They finished strongly against the Cowboys and Rabbbitohs and showed resilience against the Raiders, even allowing for the flood of late mistakes. Concern remains over afternoon games in the heat across the Tasman (Eels and Sharks).
Off-field support
Where former coach Brian McClennan could count his total staff on one hand, Elliott has enough to form an entire team. Two assistant coaches and half a dozen engaged in high performance as well as other specialists means that more bases can be covered and should pay dividends in the long run.
Selection
While injury limited his options, McClennan made a habit of unusual selections or last-minute switches. Elliott has maintained a more consistent line and has been rewarded for some brave calls, with Pita Godinet and Ngani Laumape adapting swiftly to life in the NRL.
Depth
Partly thanks to McClennan's blooding of Konrad Hurrell, Ben Henry, Sebastine Ikahihifo and Carlos Tuimavave among others, Elliott has options in many positions, creating genuine competition for places. This should drive performance upwards as the year progresses.
What has yet to improve
Desire and will to win
It's easy to be simplistic but not enough of the current squad seem to want to die for the cause compared to their NRL counterparts. Attitude was one of the major problems when things went south late last year and many of those involved are still at Mt Smart. If there has been an attitude makeover over the off-season, it isn't completely evident yet. Elliott has talked repeatedly of changing the DNA of the club - "We have identified an issue and it's something that's in our past," Elliott said after the heavy round one loss at Parramatta. "It is something that is in the furniture here, it has got to change and it will change." Any changes thus far have been only cosmetic.
Attacking structure
There have been moments of genuine flair and attacking verve in the six games this year but nothing resembling a sea change, though the second half against Souths felt like a return to the glory days. Fifth tackle options have been poorly executed and the Warriors are still too easy to read in possession.
Awareness and urgency
Probably the area most in need of examination. Whether it is a kick chase, defending a bomb, pursuing a bomb or grubber, or making a support run, the Warriors are too often second to arrive or react. Watch the Storm and their players are almost always where they should be, whereas the sight of a Warrior making a half-break and looking back in vain for a support runner is all too common. In a competition as closely fought as the NRL, that can be all it takes to make the difference.
Avoiding hype
As much as some hype is unavoidable - to sell tickets and give sponsors their return - the best form of publicity is results. The Breakers owners have barely spoken a word in public over the last few years but are obviously doing everything right behind the scenes. A lot of the hype this year has been unnecessary - whether it has been detailing the UFC background of one of the trainers or unveiling the new oxygen chambers at the gym. It reached a nadir last Saturday night with the sight of Russell Packer plugged into the 'core cooling units' on the sideline. They looked like oversized oven gloves that George Lucas might have designed and had the Australian television commentators incredulous on a cold Canberra night.
Timing
Still awful. Pick the worst possible time to make a mistake you have never made before and the Warriors seem to find it. Most of the time it's impossible to criticise the effort but opposition teams are constantly let back into the contest. Last week's defeat retained the habit of frustrating, near-impossible losses on the eve of a break, after harrowing losses to the Tigers and Sharks preceding bye rounds last year.
Influencing referees
As much as Terry Campese's constant moaning was painful last week, there is no doubt that it was effective. A 6-1 penalty count was strange in a comparatively even game and as much as the Warriors were guilty of loose carries in the last 20 minutes, the Raiders were equally complicit in their concealed steals. It was a similar situation with some game-changing calls against the Rabbitohs. Captain Mannering has improved his communication with referees but has yet to reach the persuasive abilities of past leaders like Steve Price and Kevin Campion.
Luck
It was there in 2011, with the bounce for Krisnan Inu's miraculous try against the Tigers changing the complexion of the season. It seemed completely absent last year, both in the horrific run of injuries and also some crazy on-field occurrences - particularly the freakish bounce off Kieran Foran's chip that set up Manly's killer last-minute try in Perth. Fortune has yet to turn in 2013 as a staggering 18 NRL players have been injured thus far, including key men such as Nathan Friend, Jacob Lillyman, Sam Rapira and Dane Nielsen.
Let's remember ...
The NRL is a ruthless competition, probably the most competitive of any sporting code on the planet. For all of their disappointments, the Warriors have a better NRL finals record over the past decade than most other clubs and have a good track record of rebounding from disastrous campaigns. "We've been to some hard places this year," said Micheal Luck in his farewell speech last year. "But hard places breed hard men and hard men win the NRL."
What they said
On July 19 last year, the Warriors convened a special press conference at Sky City. Owners Eric Watson and Owen Glenn held court, alongside chairman Bill Wavish.
Also in attendance was general manager Dean Bell, CEO Wayne Scurrah, former coach Brian McClennan and other club officials.
Many off-field initiatives were announced, including the formation of a Warriors' charitable trust, the upgrading of training, sports science, medical, talent identification, IT and other team support facilities, a Warriors' championship for Auckland secondary schools first XIIIs and an increased merchandise range.
Much of the above has been put in place but it was the announcements made regarding on-field performance that raised eyebrows at the time.
• "We want this club to become the best single sporting franchise in Australasia, taking it to levels never seen before in this part of the world." -
Eric Watson
• "This is a conscious effort to significantly raise the bar for the Warriors as a club and as a brand." -
Eric Watson
• "Our clear goal is to win multiple championships and to be a top sporting franchise in Australasia. These initiatives we are announcing today will pave the way for an era of unprecedented growth in the club's on-field success, profile and community presence. It's about setting the highest possible standards and ensuring our players have all they need to perform to optimal levels." -
Bill Wavish
• "Everyone involved in the Warriors and in rugby league should be more excited about the future than ever. We definitely are." -
Eric Watson
What they did
Warriors results since that press conference on July 19, 2012
2012 season
Played 7, lost 7
Points scored per match: 14
Points conceded per match: 35
Lost to Knights 19-24
Lost to Sea Eagles 22-24
Lost to Sharks 4-45
Lost to Cowboys 12-52
Lost to Panthers 16-18
(Coach Brian McLennan sacked, Tony Iro appointed caretaker coach)
Lost to Dragons 6-38
Lost to Raiders 22-42
2013 season
(Coach Matt Elliott appointed)
Played 6, won 1, lost 5
Points scored per match: 14
Points conceded per match: 24
Lost to Eels 10-40
Lost to Roosters 14-16
Lost to Sharks 4-28
Beat Cowboys 20-18
Lost to Souths 22-24
Lost to Raiders 16-20
Overall:
Played 13, won 1, lost 12.
Next match:
vs Melbourne Storm, Anzac Day
https://www.nzherald.co.nz/nrl/news/article.cfm?c_id=270&objectid=10878755