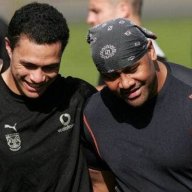 mt.wellington
Warriors Orange Peeler
Contributor
1) In a team lacking leadership and experience we get rid of Lowrie. Granted I'm not a massive fan, but his presence off the field would be valuable (and maybe that is the problem, Elliott doesn't see him as a starter)
Im thinking it might have more to do with Lowrie wanting out and not the club getting rid of him. Only a theory but as I said, I think he's a professional and maybe doesnt like something about the club. I'll probe more when I get in someones ear.
4) Curious about what sort of unhappiness we're talking about. Either a general "Don't like change" unhappiness, or a "this club is screwed" unhappiness.
All of the above from what Im hearing. Most centre around the new direction Elliott is taking the club and Elliott himself. You can start with the dropping of Ackland who was a hugely popular bloke amongst the lads...