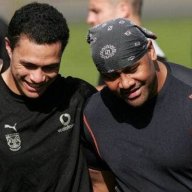 mt.wellington
Warriors Orange Peeler
Contributor
Theres enough news and pics coming out of the visit to Samoa to start a thread. They've yet to even go to Tonga...
Vodafone Warriors to visit Samoa and Tonga
Richard Becht
Thursday 24 January
2013
3:35 PM
Captain Simon Mannering plus team-mates
Manu Vatuvei
, Jerome Ropati and
Konrad Hurrell
will break from their preseason
training
programmes for a trailblazing Vodafone Warriors community tour to Samoa and Tonga next week.
Mannering and Ropati will leave next Wednesday (January 30) to spend time in storm-ravaged Samoa while Vatuvei and Hurrell will depart on February 2 for their native Tonga.
Being staged in conjunction with the NRL's 2013 preseason community carnival, the January 30-February 6 Pacific initiative is a first for the Vodafone Warriors as they seek to promote both the club and rugby league as a whole in the two island nations.
"We have such a strong affinity with both countries with so many of the club's players past and present being of Samoan or Tongan extraction," said Vodafone Warriors chief executive Wayne Scurrah.
"This is an opportunity for us to give something back to these countries. It's also a chance to build interest in what is a huge year for rugby league with Samoa and Tonga both competing at the 2013 World Cup in the United Kingdom."
Scurrah said the trip to Samoa had become particularly significant.
"Since we started planning the tour, the people of Samoa have suffered terribly through Cyclone Evan," he said.
"By visiting them next week we hope we're able to provide some cheer after such a difficult time. We just want to do whatever we can to help to lift spirits."
Mannering and Ropati, two of the most experienced players on the Vodafone Warriors' 2013
NRL
roster
, are scheduled to fly out to Samoa with the club's delegation tomorrow week (Wednesday, January 30).
Vodafone Warriors chairman Bill Wavish and Scurrah will also be on tour as will three of the club's most illustrious former players – Dean Bell (
general manager
football operations), Stacey Jones (junior
recruitment
and pathways
coach
) and Ruben Wiki (strength and conditioning coach).
While Mannering and Ropati will return home on February 2, the main Vodafone Warriors party will head directly to Tonga where they will be joined by Vatuvei, Hurrell and other staff on the same day.
Hurrell, born in the village of Tofoa, will be making another homecoming having made trips back to Tonga in the off-season and during the Christmas-New Year break; Auckland-born Vatuvei also visits family in Tonga whenever he can.
On both visits, the Vodafone Warriors will mix official functions with carnivals at both primary and secondary schools.
Vodafone Warriors community manager Petrece Kesha said the carnivals would feature Backyard League sessions and
position
specific drills.
"We'll also have signing sessions, there'll be giveaways including our new NRL
team
posters and the locals will be able to mix with the players for autographs and photos," she said.
The Vodafone Warriors will also stage community carnival events around their NRL trials against Penrith in Hamilton on Saturday, February 16 (4.00pm kick-off) and Brisbane in Dunedin on Saturday, February 23 (7.30pm kick-off).
https://www.warriors.co.nz/news-display/Vodafone Warriors to visit Samoa and Tonga/67564