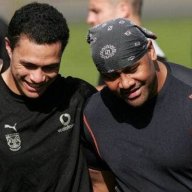 mt.wellington
Warriors Orange Peeler
Contributor
Ben Matulino tops the table for the Warriors this year. For the first time since he joined the club in 2011 Feleti Mateo doesnt take out the top prize. Not only that but he's 4th after Konrad Hurrell and offloading animal Dane Nielsen!
​
With this table we see just how far Feleti Mateo has fallen. Went from 55 in 2013 to a measly 18 this season. Interestingly Sam Rapira has also seen a huge drop in his offloading stats. Looking at his average runs per game he was down 11 runs in his run total from the year before (79.7 runs in 2014 vs 91 runs in 2013)...
​
Here we look at how we stack up with the rest of the competition. Important to note that these stats were gathered from another site as I dont do stats on the whole NRL. Ben Matulino comes in 11th. The rest of our top 5 and their placings can be found at the bottom of the list...
​