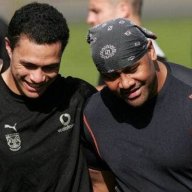 mt.wellington
Warriors Orange Peeler
Contributor
Following stats I compiled myself. Not sure how they get their stats. Only counted tackles where a player actually contributed to the tackle and not just rest his hand on a tackled player or graze his elbow. Effective tackles are where the tackle stopped play and didnt result in a 2nd phase. Metres gained is a contentious one and I could only use my judgement based on the 10 metre marks and my experiance in trade work.
TA
Try assists
LB
Line break
LBA
Line break assist
TB
Tackle breaks
OFF
Offloads
HIT
Hitups
MG
Metres gained
TK
Tackles
MTK
Missed tackles
EFF
Effective tackles
ERR
Errors
PEN
Penalties
I plan to put up all the Warriors stats for the season but will rely on officials sites for the regular season games. Stats get wiped from sites at the end of every season so it'll be good to have a reference point for Warriors stats. Any help in compiling stats will be most welcome.
If you are going to post stats from games can you please wait a couple days as they ALWAYS go back and revise them, always!!!