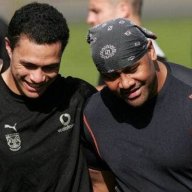 mt.wellington
Warriors Orange Peeler
Contributor
Think this RLWC will be your typical 3 horse race (Aus, NZ, UK) so Ive decided to back my 2nd team to the death. Love an underdog and this one is close to the heart.
Going to bring the news of the team and players during Tonga's campaign to win the RLWC13...
A Bit of History
The South Pacific archipelago of Tonga, known as the 'Friendly Islands' after the reception given to Captain James Cook in 1773, took up the sport of Rugby League in 1986.
Within two years a domestic competition had been formed which now boasts seventeen clubs and over 2,000 players across the three main islands of Tongatapu, Vava'u and Ha'apai.
With a helpful proximity to Australia and New Zealand, and an increased Tongan presence in the world's major domestic competitions, Rugby League in Tonga developed rapidly.
The 1988 Pacific Cup was Tonga's first taste of international Rugby League and in 1992 they actually made the final of the same competition.
In 1995 Tonga took part in the Rugby League World Cup for the first time. Before an enthralled crowd at Warrington's Wilderspool Stadium, the Tongans came within a whisper of knocking New Zealand out of the tournament, losing by a single point in one of the best games in World Cup history.
Tonga also participated in the 2000 Rugby League World Cup, where they performed poorly in pool games against France and Papua New Guinea and again missed out on a quarter final place.
At the 2008 World Cup, Tonga were favourites to reach the semi-final and started well enough by beating Ireland in their first pool game. The second match, against Samoa, was one of the matches of the tournament, but that was no consolation to the Tongans whose defeat ultimately proved costly.
​
Last edited: