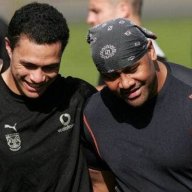 mt.wellington
Warriors Orange Peeler
The Mad Butcher - Sir Peter Leitch QSM
​
Sir Peter Charles Leitch was born to working class parents Myrtle and John, the youngest of seven children, in 1944 and grew up in Newtown in Wellington.
He left school in 1959 having battled what would be quickly recognised today as dyslexia, working first as a telegram delivery boy.
When he decided to get a skill behind him he joined a Seatoun butchery and eventually moved to Auckland, where he traded his butcher's knife for a gravedigger's shovel.
But he was soon back working as a butcher and he would work all week and then hit the road with his wife Janice in their Morris Minor checking out shops and locations.
He found one in Mangere's Rosella Rd and it changed his life.
Down the road was the Mangere East Hawks Rugby League Club and he was soon providing meat for raffles and player of the day prizes. Now, more than 40 years on, he is still involved in the club.
He once famously offered the club - insuring himself against the risk - $80,000 to win the premiership. They didn't.

Pete with his good mate and the King of Rugby League, Wally Lewis
Rugby league always struggled in a country obsessed with rugby but The Mad Butcher was a one man league promotion service, devoting much of his butchery chain's radio advertising time to pushing the game at every level.
He is an honorary league ambassador for the Vodafone Warriors, and both the Auckland and New Zealand Rugby Leagues.
He is Vodafone Warrior No 19, with the number permanently retired in his honour, and was also given a 100 game ring by the club.
He has been the Kiwis assistant manager but is especially proud of being the football manager in 2005 - when his beloved Kiwis beat Australia 24-0 to win the Tri-Series, and in 2006, when the Kiwis were beaten in extra time.
He celebrated both events by publishing books on the Kiwis, The Year the Kiwis Flew: From Woodenspooners to Winners - which sold an unheard of 10,000 copies in 2005, and The Year That Was in 2006.
He is a fixture at the Mt Smart home of the Vodafone Warriors and still personally hosts hundreds of members at The Mad Butcher Club at every home game. The club is an iconic part of the Warriors set-up and a regular haunt for visiting fans who have crossed the Tasman to back their teams.

Peter's good mate Graham!
The Mad Butcher is possibly the most famous man in New Zealand, and the chain is certainly one of the most widely recognised businesses. His biography, What a Ride Mate! The Life and Times of the Mad Butcher was launched by his good friend former prime minister Helen Clark. The book sold out and spent several weeks in the bestsellers list.
Pete was awarded the Queen's Service Medal in 1991 for his work in the community, the Butcher is also a fundraising champion, supporting many causes - particularly in the health field.
He is the chairman of the Mad Butcher and Suburban Newspapers Community Trust, which has raised well over $1 million for charities, and is also an ambassador for Allergy New Zealand, a cause dear to his heart because it affects one of his own grandsons.
Even he does not know how much he has raised or personally given to charity but it certainly runs to millions of dollars.
After experiencing some health difficulties and a series of family bereavements Peter sold the business to his then chief executive Mike Morton.
Today he devotes his time to his extensive charity commitments, speaking engagements, his beloved Vodafone Warriors and kayaking.
Despite his business, sporting and charity achievements, he remains proudest of his family. Janice has been by his side for 43 years and they have two daughters, Angela and Julie, and four grandchildren.
https://web.archive.org/web/2013082...butcher.co.nz/about_the_mad_butcher/index.cfm