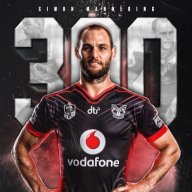 gREVUS
Long live the Rainbows and Butterflies
Contributor
Surely a heap of forummers have had strained Pecs?

It doesn't always happen because you are older or less resilient.

This injury is no drama, it's not a wear and tear Injury.

Guys like Arnold would put ten times the load on their Pecs than

Shaun Johnson

four or five times a week at his age (yes Annie's Pecs are way bigger and stronger, but it's a muscle group that doesn't wear down like weight bearing muscles, tendons and joints).

This is just a run of the mill can happen to anyone strain, probably lifting in the tackle while at an awkward angle or swung his arm into someone who steam trained and bowled the bulk of their weight into the arm instead of the shoulder.

Could be he over trained in the gym.

Pec strains (not tears) just hurt, and swell, and make your arm weaker when in use.

It is an injury with a prognosis of 100% full recovery.

I'm not saying

Johnson

isn't older with scars.....but this is just a blip provided our physio's and trainers manage it correctly.

Johnson

has a lot of upper body mass and power relative to his height, his Pecs are massive, and well supported by huge arms shoulders and back muscles. He will brush this off.
Is all good, just had to get my negativity out. So many people looking for
Shaun Johnson
to be our saviour - again.
I really hoped that he would come back and fill out the team not replace it. No matter how good he is, they need him to gel, passes to stick and players to act like he isn't going to win the game for them. I have mentioned (in the past) that i think he is injury prone and a great risk to rely on. But I also get he is a talent, just maybe not one as good as people on here like to say.
But as with the coach, I really hope he proves me wrong.