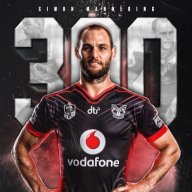 gREVUS
Long live the Rainbows and Butterflies
Contributor
That is Zelensky's problem set though isn't?
if your talking about the invasion of his country then sure.
If your talking about the Ukraine wanting closer links with NATO then no. To quote Putin "as a sovereign country they will do whatever is in their own best interests. And they will not let some other country dictate to them".
The Nazis are a red hearing that Putin is exploiting to sell his agenda within Russia. A true bogeyman that the Russians people fear and revile.
Putin is a classic bully. He will throw his weight around and then when things dont go his way will use all his made up rules to stop you from doing the same.
The Ukraine is a sovereign nation and they can do as they damn well please - right up until they invade another country to enforce their beliefs onto others. In this they are no different than any other including the US and Russia.