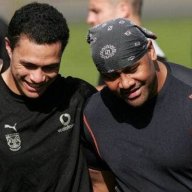 mt.wellington
Warriors Orange Peeler
Contributor
I'll try and keep this topic centralised in this thread, so I've temporarily locked the signings & Tomkins threads.
Roger Tuivasa-Sheck
has been confirmed as a Warrior, while Sam Tomkins will be granted an early release from his three year deal. The Auckland NRL club will confirm...
nzwarriors.com
Starting a
Roger Tuivasa-Sheck
dedicated thread so we can follow his career through news, articles and posts. The other signing one has been too far polluted with posts about the Pom.
https://www.nzwarriors.com/threads/roger-tuivasa-sheck-signing-sam-tomkins-release-discussion.41850
Roosters fullback Roger Tuivasa-Sheck signs with Warriors for three years
DAVID LONG
Last updated 14:58, April 8 2015
Roger Tuivasa-Sheck
has joined the Warriors on a three-year deal and will play for the club from next season, while Sam Tomkins will return to England.
As reported in January, the NZ franchise were interested in bringing the Kiwis and Roosters fullback back to Auckland and they are believed to have paid over $800,000 for his services.
Tuivasa-Sheck
will be a like-for-like replacement for Tomkins, who will leave the club a year early having failed to settle in New Zealand.
The Warriors have been trying to help a homesick Tomkins adjust to life in New Zealand, but this hasn't happened and there was a feeling this was affecting his performances.
He'll leave the country at the end of the season and be able to play without any pressure now a decision has been made.
Tomkins showed just how talented he is in the couple of games he played this year before getting injured and it's no coincidence the club's performances dropped away in losses to the Broncos and Storm in the past fortnight.
Tuivasa-Sheck
grew up in South Auckland and was nabbed by the Roosters, despite the Warriors also showing strong interest in him.
The 21-year-old won the award for the winger of the year in the NRL last season and has been in stunning form again this year after his switch to fullback, replacing the retired Anthony Minichiello.
In the club's loss to the Sharks last weekend,
Tuivasa-Sheck
ran for over 300 metres.
The Warriors have been looking to land a marquee signing for a number of months, but missed out on Kieran Foran, Trent Merrin and Jason Taumalolo.
Warriors managing director Jim Doyle said the club had reluctantly agreed to allow Tomkins to return to England a year before the end of his contract in 2016, but was delighted to secure
Tuivasa-Sheck
on a long-term contract.
"He came here excited about testing himself in the NRL and also experiencing living in a new country but, in the end, Sam has found it too much of a challenge being away from home," Doyle said.
"While we have talked with him and tried to work through it he has now come back to us to ask for a release at the end of the season.
"It's disappointing that it has come to this but reluctantly we have accepted there is no option but to allow Sam to return to England.
"For now, though, he is determined to finish his time with the Warriors in the best way he can. He's working to recover from his knee injury as soon as possible so he can regain his spot in the team."
Tomkins thanked the Warriors for their compassionate approach.
"I never imagined it would reach this point," he said.
"This is a great club and I can't say enough about the coaching staff. I love being with the lads and it's a brilliant country to live in but I can only be honest and say I miss home in ways I never thought I would.
"I'm truly grateful to the Warriors for agreeing to give me an early release and I am so determined to repay them for their consideration.
"All I want now is to get back out on the field to help us have a great season."
Warriors head coach Andrew McFadden said making a decision now about Tomkins' future should prove beneficial.
"This has been hanging over Sam at different times and there's no doubt it has affected him," he said.
"Now the way has been cleared and I'm sure he'll excel once again when he comes back from this injury.
"We've seen the quality he provides when he's in the side. He makes a huge difference to the way we play and I know how determined he'll be to contribute over the rest of the season."
While disappointed Tomkins wouldn't be with the club for the full term of his original contract, McFadden was elated about snaring Sydney Roosters star
Tuivasa-Sheck
.
"He's a wonderful talent and a fantastic signing," he said.
"He's still only 21 and has already made a real mark in the NRL and also for the Kiwis. To be able to bring a New Zealander back to our club from Australia is massive for us.
"While we're naturally thrilled and Roger is just as excited about coming home, we both have the same focus for the rest of the year.
"He's solely interested in doing all he can for the Roosters just as we know Sam wants to do the same for us."
https://www.stuff.co.nz/sport/leagu...asa-Sheck-signs-with-Warriors-for-three-years
Last edited: