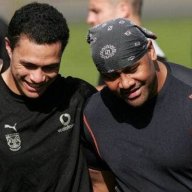 mt.wellington
Warriors Orange Peeler
Contributor
The locked recruitment thread that was meant to only have the good stuff in it didn't work at all. It was difficult to move posts that had 20 replies to it already and meant more work for mods. We are looking at going back to the old system of having an open one for news and rumours while keeping one that people can bounce ideas off, shoot the breeze or discuss recruitment strategy without fear of moderation. The way it was set up this season there was no general discussion thread that catered to slightly off topic but still relevant posts.
So for 2019 we are looking at doing:
Warriors Recruitment NEWS and Rumour Mill - 2019
This is your standard news, leaks and rumour thread for official releases, media stories or good oil and ensuing discussion relevant to those posts. As usual this thread will be heavily moderated but 99% of OT posts will be moved to the one below.
2019 Warriors Recruitment DISCUSSION
Anything else to do with recruitment like strategy from Brian Smith and Peter O'Sullivan, thoughts on how it can be improved, where the club should be looking, thoughts on the current make up of the team etc. Anything that isn't official but still relevant to Warriors recruitment.
Also thinking of doing away with the
Who Should The Warriors Sign For 2018/2019?
thread with all those type posts simply going in the above thread. Just a thought on how to cut down overlapping threads and streamlining them to make it easier for everyone. In saying all that if you guys want it to remain that's all good too.
Let us know your thoughts on this and any improvements you feel would help. None of the above is written in stone. Just an idea. We can add threads or remove them as you guys want them.
All other standard threads like preseason, injury, roster etc will still be there and will be rolled out after the Grand Final as well.
Any other ideas for next season feel free to post up or message an admin.
There will be some improvements to the site/server soon which
tajhay
will elaborate on down the line.
Cheers...