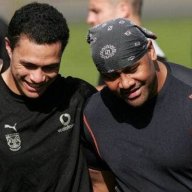 mt.wellington
Warriors Orange Peeler
Contributor
1 KEVIN LOCKE
2 JEROME ROPATI
3 DANE NIELSEN
4 KONRAD HURRELL
5 MANU VATUVEI
6 THOMAS LEULUAI
7
SHAUN JOHNSON
8 SAM RAPIRA
9 NATHAN FRIEND
10 SUAIA MATAGI
11 ELIJAH
TAYLOR
12 SIMON MANNERING (c)
13 TODD LOWRIE
Interchange:
14 BEN MATULINO
15 JACOB LILLYMAN
16 FELETI MATEO
17 DOMINIQUE PEYROUX
18 NGANI LAUMAPE
HEAD COACH: MATTHEW ELLIOTT
Yep, thats right. I just copied and pasted last weeks team. If Nielsen is out injured though then Id like to see a backline of
1 KEVIN LOCKE
2 JEROME ROPATI
3 NGANI LAUMAPE
4 KONRAD HURRELL
5 MANU VATUVEI
Maybe more sensible to reunite Ropo with Manu and Ngani on the wing with Hurrell. Always wanted Ngani as a centre instead of at wing. IMO he will one day replace Nielsen in that spot. Could be too much of a burden on Laumape playing inside Manu. Also a big risk with our season not quite done for.
There in lies to biggest issue with this game. Because of both our points differential we are both basically playing for our seasons. One will carry some slight hope of making the 8 and the other will be playing for pride, development or to keep making bank til Mad Monday comes round...