Roaches seventh set of brothers to represent club​
Richard Becht
Paul Roache will complete the seventh instance of brothers playing for the One New Zealand Warriors in the NRL when he makes his debut against the Dolphins in the club's final regular season match at Suncorp Stadium in Brisbane tomorrow (3.00pm kick-off local time; 5.00pm NZT).
Head coach Andrew Webster has confirmed the 24-year-old will debut as Warrior #284 after promoting him from the extended bench to the game day interchange.
Known as Paulie, he joins older brother Nathaniel (Nate) who made 26 appearances as Warrior #207 from 2016-2019.
Previous sets of brothers to play for the club have been Tea and Iva Ropati, Jerry and Anthony Seuseu, Vinnie and Louis Anderson, Sam and Steve Rapira, Cooper and Joe Vuna and Sione and Sam Lousi. The Ropatis, Seuseus, Andersons, Rapiras and Lousis all played NRL matches for the club alongside each other.
Now with Manly Warringah, Nate Roache had hoped to line up against his brother again when the Sea Eagles took on the One New Zealand Warriors in their New South Wales Cup clash two weeks.
Instead he was on the sideline at Go Media Stadium that evening playing babysitter to his little nephew Noah as his father earned his keep out on the field.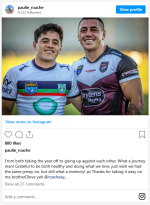 Paul was a rugby union sensation with the Mount Albert Grammar School First XV, going on to play for the New Zealand Secondary Schools.
He opted for rugby league instead, signing with the Canberra Raiders where he played for the club's under-20 side and feeder club the Mounties in the New South Wales Cup as well as representing the Junior Kiwis.
However, he finished up with Canberra on compassionate grounds, heading home to Auckland and playing rugby union with Ponsonby.
But the rugby league juices started flowing again as he was given the chance (but no contract initially) to join the One New Zealand Warriors for the preseason late last year as they set about reviving their New South Wales Cup side which had been in recess during the Covid years.
Slotting in at hooker, he was a key contributor as the Slade Griffin-coached side made a hot start to the season. Injury, though, kept him sidelined for the middle of the campaign before he returned in the later rounds to take his tally of appearances to 13 so far.
The Roache family has a history of sporting prowess. Rebekah was an outstanding netballer at Mount Albert Grammar School while younger sister Abigail is a rugby league international, representing the Kiwi Ferns at the Rugby League World Cup and now with Newcastle in the NRLW.
As it happens Paulie, Nate and Abigail will all be playing rugby league in three different locations tomorrow – Abigail will be in the centres for Newcastle's NRLW match against the Raiders in Canberra, Paulie will be on the bench for the One New Zealand Warriors against the Dolphins in Brisbane and Nate will be on the interchange for Sea Eagles in their sudden-death NSW Cup play-off against Canberra at North Sydney Oval.
BROTHERS IN ARMS​
#15 Tea Ropati (74 appearances 1995-1998)
#35 Iva Ropati (7 appearances 1996-1997)
Played together in each of Iva's seven appearances
#50 Jerry Seuseu (132 appearances 1997-2004)
#94 Anthony Seuseu (1 appearance 2001)
Anthony played with Jerry in his only appearance against Brisbane
#100 Vinnie Anderson (55 appearances 2002-2004)
#112 Louis Anderson (67 appearances 2004-2007)
Played together 12 times in 2004
#118 Cooper Vuna (5 appearances 2004-2006)
#228 Joe Vuna (4 appearances, 2018)
#131 Sam Rapira (173 appearances 2006-2015)
#169 Steve Rapira (14 appearances 2011-2014)
Played two matches together in 2014
#159 Sione Lousi (50 appearances 2010-2016)
#175 Sam Lousi (3 appearances 2012-2014)
Played two games together in 2012
#207 Nathaniel Roache (26 appearances 2016-2019)
#284 Paul Roache (2023)
Paul Roache to complete seventh instance of brothers playing for club in NRL.
www.warriors.kiwi