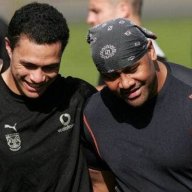 mt.wellington
Warriors Orange Peeler
Just going to start a thread for all the news or smaller games happening in the Pacific or involving PI teams that might not warrant a thread. First up...
Tonga Rugby League announce team to take on PNG in sanctioned Test

14/10/14
Tonga has today announced their 17-man team to take on the PNG Kumuls in a fully sanctioned International Test Match in Lae this Sunday 19th October 2014. The Tongans will arrive into Port Moresby on Wednesday
Current Broncos Assistant Coach Kristian Woolf who has recently taken on the Head Coaching job of the new Intrust Super Cup Team the Townsville Blackhawks for 2015 coaches the Tongans.
The PNG Kumuls 18-man team will be announced on Wednesday ahead of their departure from base camp in Kokopo to Lae on Thursday.
Points for World Cup rankings are on offer as the Papua New Guinea Kumul's prepare to host Tonga Ma'a this weekend in an historic clash.
After a solid, confidence building performance against the Australian Prime Ministers 13 in Kokopo last Sunday, the Kumuls will be looking to build on their first up hit out against a Tongan team stacked with NRL talent.
The game against Tonga is vitally important and the PNGRFL are calling on fans to pack out Lae Rugby League grounds this Sunday.
The game is scheduled for Sunday, October 19 at 2pm at the Lae Rugby League Ground. Tickets and merchandise will be on sale from 8am game day.
2014 Tonga Rugby League Team
Sitaleki-Moala Akau'ola - West Tigers
Viliami Fine - West Tigers
Sione Folau - Parramatta
Daniel Foster - Penrith
David Hala - Broncos
Solomone Kata - Warriors
Samisoni Langi - Sydney Roosters
Haveatama Luani - West Tigers
Viliami Manu - Penrith
Benjieman Murdoch - Penrith
Agnatius
Paasi
- Warriors
Wellentony Satini - Manly
Ukuma Taai - Huddersfield UK
Siosiua Taukeiaho - Sydney Roosters
Peni Terepo - Parramatta
Vai Toutai - Parramatta
Bill Tupou - Canberra
Coach:
Kristian Woolf
https://www.rugbyleagueplanet.com/r...nounce-team-to-take-on-png-in-sanctioned-test
PNG Rugby League release line-up to take on Tonga Ma'a

Date: 15/10/14
PNG Kumul Coaches Mal Meninga and Michael Marum have today announced the line up who will face the Tongan Ma'a on Sunday 19th October 2014, 2pm at Lae Rugby League grounds.
The full 21-‐man squad which has been in camp for 3 weeks has been retained after consultation with National Selectors, with the final 17 to be finalised prior to kick-‐off on Sunday said Meninga;
"We have a few niggling injuries to some key personnel that we want to monitor, treat and ensure they are fit for Sundays important match so we will give them right up until game day before we finalise our starting 17. Being in camp for 3 weeks has allowed us to work on different combinations should injuries occur. We have that advantage playing at home where we can have a larger squad to choose from and we will be using it to ensure we have a fully fit 17 on Sunday. We have ample backup in the 21-‐man squad to cover for all positions so there are no issues there for us. We have had a great preparation over the last 3-‐4 weeks and are looking forward to Sundays match."
Meninga said the Tongans will be tough opposition but the Kumuls needed to play the best quality opposition they can on a regular basis to improve;
"It's no benefit to us playing against nations who are not top quality. That does nothing to improve us and we will continue to test ourselves against the best International teams. Tonga is stacked with established and young high quality NRL players and its big test for us. We have worked on a few things at training this week and we will be ready to go on Sunday. I'm confident the group we have, after getting a run under our belt last weekend will put in a good performance come Sunday."
The Squad will travel to Lae on Thursday for the important clash. Tickets & limited merchandise for the match will go on sale on match day – Sunday morning from 8am at the Volleyball Courts, behind Lae Rugby League grounds. Gates will open at 9am with the main game starting at 2pm. Pre game entertainment including a live band will entertain fans. There is NO public car parking available at the grounds.
PNGRFL CEO Brad Tassell said they were expecting a capacity crowd:
"It has been a few years since Lae hosted an International match of this quality and even longer since it hosted an International Test match. This is the real deal and Mal and Michael rotated their players last week to give everyone game time, however this weekend its 17 against 17 with limited interchange. There's a lot of talk and excitement already in Lae about the match. It will be a massive game and both teams will be going at each other in what we expect will be a very physical encounter. We are encouraging fans to get to there early to get your tickets and we are looking forward to a vocal huge crowd to cheer on and lift the boys against the Tongans."
PNG Kumul Test 2014 Squad:
Dion Aiye
Stanton Albert
Israel Eliab
Adam Korave
Roger Laka
Timothy Lomai
Gary Lo
Rhyse Martin
Mark Mexico
Willie Minoga
Kato Otio
Sebastian Pandia
Brandy Peter
Wartovo Puara
Esau Siune
Jason Tali
Thompson Teteh
Lawrence Tu'u
Henry Wan
Adex Wera
Noel Zeming
Coach: Mal Meninga
Assistant Coach: Michael Marum
https://www.rugbyleagueplanet.com/r...-league-release-line-up-to-take-on-tonga-ma-a