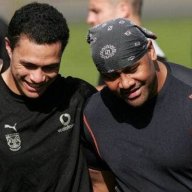 mt.wellington
Warriors Orange Peeler
Contributor
Controversial former NRL player Ryan Tandy found dead in parents' apartment of suspected overdose
1 HOUR AGO APRIL 28, 2014 4:17PM
Ryan Tandy as a Bulldogs player in 2010. Source: News Limited
DISGRACED former NRL star Ryan Tandy has been found dead at his parents' Saratoga home.
In the latest tragic twist in a wasted life Tandy, a known drug user, died after an apparent drug overdose.
Police were called to the Saratoga address at 2pm on Monday following reports Tandy had died.
"On arrival police found the body of a 32-year-old man," a police statement said.
"His death is not being treated as suspicious and a report will be prepared for the coroner."
Tandy, 32, was a part-time NRL player thrust into the headlines when he fixed a game involving Canterbury and North Queensland in August 2010.
Despite pleading not guilty, Tandy was found guilty of spot fixing and banned for life from the NRL.
Since retiring from rugby league Tandy failed to live a quiet life, and was arrested in January for an alleged kidnapping offence linked to criminal bikie organisations.
Former South Sydney teammate Bryan Fletcher caught up with Tandy only a month ago and described the news as "awful" and "tragic".
"He had his problems punting – he liked to bet," Fletcher said. "But I wouldn't have seen this coming. It's tragic for his family."
Fletcher said when the pair caught up in a Sydney pub they discussed Tandy's new business venture - compression garments - he was developing with former Melbourne half Matt Orford.
"He seemed alright, Fletcher said.
"He had a business venture going – he was getting into the compression garments – I was just having a beer with him talking about that. He said 'if I had any leads' (to let him know) with footy clubs.
"He's lost a lot of weight too. He'd been training and was off the drink. He was in a good headspace which I thought was good."
He played for five NRL clubs over a career that tallied 36 games.
https://www.news.com.au/sport/nrl/c...spected-overdose/story-fndujljl-1226898546914