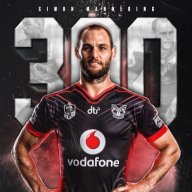 gREVUS
Long live the Rainbows and Butterflies
Contributor
I don't think it matters which team we field- it is going to be a patchwork on some level anyway. On paper we've been inferior all year yet we keep turning up and winning. Nothing changes this week. Load up on that parra edge with Ferguson, suffocating kicking game like last week to tire their bigger middles and praying

Beale

does not cock up, we might just surprise again. If we win this, we could be 2 points from Cronulla giving us a chance to make that difference up the following week.
I would like to believe, i want to believe, damit all I BELIEVE.