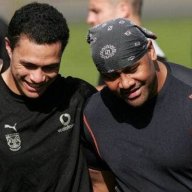 mt.wellington
Warriors Orange Peeler
NRL 2015 - Rnd 8 - Sharks vs Warriors, Remondis Stadium, Woolooware.​
​
Redmonis Stadium (Shark Park or Toyota Stadium as it has been known in the past) hasnt been the best grounds for us. Even with the Sharks being perennial cellar dwellers in recent years they can count on the Warriors not showing up at their home ground. We havent won there since Round 22 in 2010. Thats not counting the Sharks 'home' game they took to Owen Delany Park, Taupo in 2011 that we won.
Last year was no exception. Who can forget the embarrassment of the 37-6 loss to the Sharks in Round 5 who hadnt won a game that year. Getting a hiding from the then wooden spooners would prove to be Matt Elliotts final act as Warriors coach. The next day Wayne Scurrah and Dean Bell would front the media and announce that Matt had
been sacked
'resigned'
.
Who knows which Warriors team shows up at Woolooware this afternoon but we'll have our answer soon enough. Strap in people and hopefully we're all smiling at the end of the game. We could all do with a positive from the Warriors.
UP UP WARRIORS!!!
Last edited: