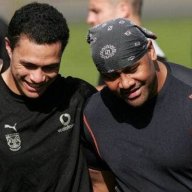 mt.wellington
Warriors Orange Peeler
Contributor
Didn't think there would be a need for this thread but things are starting to surface and at least one club hasn't learnt their lesson…
Ricky Stuart bans Mad Monday for Canberra Raiders at end of NRL season
Date September 6, 2014
Canberra Raiders coach Ricky Stuart has abolished Mad Monday, slapping a blanket ban on his NRL and under-20s' post-season celebrations to protect them from getting "embarrassed by doing something silly".
It's understood the club also enforced a curfew on players after the last game of the season against Parramatta on Saturday night and the following function to honour Brett White's retirement.
The Raiders have been haunted by Mad Monday incidents in the past, including the lewd photo of Joel Monaghan in 2010 which went viral on social media and forced him to quit the NRL.
The Raiders' presentation night is on Wednesday, prompting Stuart to take a stand against traditional end of season Mad Monday antics.
The senior players were expected to meet after the clash against Parramatta to decide on team standards for the end of year functions.
"Mad Monday is a thing of the past ... I don't like the term Mad Monday," Stuart told ABC radio.
"We're going to have a couple of functions where players can have a beer and celebrate the career of Brett White. The players can be afforded that.
"It comes back to the players' responsibility, you can't babysit them, you can't watch them for 24 hours.
"They have to make the right choices ... my job is to try to lead them in the right direction and the one thing I've said all year [is] I've got a really, really good group of players who respect the club.
"I don't want to see them put themselves in a position where they get embarrassed by doing something silly."
Mad Mondays in sport are notorious for incidents of bad behaviour.
The Canterbury Bulldogs had their incident in 2012 when players allegedly verbally abused a female television reporter.
The Melbourne AFL team was thrust into the spotlight last week when two of its players went to Mad Monday dressed as Rolf
Harris
and a young girl.
A year ago, St Kilda player Clinton Jones was fined $3000 after burning dwarf entertainer Blake Johnston on the Monday after the Saints' season ended.
The Raiders will have a post-game function on Saturday night, with White's retirement the focus of the dinner.
There will be no team function on Monday and players have been told they are not allowed to organise to meet up.
"We've had a good meeting this week in regards to the situation we're in ... they're [the players] still contracted to the club and they've got their own reputations to the club, that's something we always live by," Stuart said.
"It's like any person in any type of business, people want to let their hair down over lunch or dinner and have a good time.
"We will try to do everything we can to put them into an environment and situation that they can look after themselves.
"Myself included, there have been times when you make the wrong choice but you learn from experience. There are times they can sit back, enjoy a couple of beers and relax. But you have to make the right choices when you're doing it."
https://www.smh.com.au/rugby-league...ers-at-end-of-nrl-season-20140906-10dc1j.html
The Cronulla Sharks celebrated Mad Monday with what appeared to be a topless waitress
THE DAILY TELEGRAPH
SEPTEMBER 08, 2014 10:25PM

Sharks players with what appears to be a topless waitress at their Mad Monday celebrations.
JUST when you thought it was safe to go back into the watering hole.
The Cronulla Sharks did their tattered reputations no favours on Monday when they got angry with a Daily Telegraph photographer for taking pictures of their Mad Monday celebrations at a popular bar at Coogee.
Players were spotted in the company of at least two women, who appeared to be topless waitresses, as they gathered at the Sauce Wine Bar on the busy Alfreda Street near the beach at Coogee to wind down after a year of controversy.

Sharks players with what appears to be a topless waitress at their Mad Monday celebrations.
The photographer was approached on the street by a group of players demanding to see his photos.
When the photographer refused to delete the photos, the players surrounded him.
The players took exception to being photographed with the women, one of whom was pictured wearing nothing more than a black pair of underwear and a hat.
The women were seen chatting with the Sharks and even clearing up an outside table as the players sipped on Coronas in the Sydney September sun.
The topless, attractive brunette with the tattoo on her right thigh caught the attention of several passers-by in another negative headline that the Sharks can ill-afford to attract

What appeared to be a topless waitress clearing a table at Cronulla's Mad Monday celebrations.
Sacked Shark Todd Carney was spotted inside the bar celebrating with his former teammates.
It was one of the first times Carney, who was sacked after a photo circulated on social media of him performing the "bubbler" mid-season, had socialised with former Sharks players.
Carney was recently in Bali with former teammate Wade Graham, who has acted as a stand-in captain for regular skipper Paul Gallen during the season.
It comes after the long-running ASADA probe into the Sharks' 2011 supplements program came to a head when a number of high-profile players accepted suspensions for taking banned substances.

Cronulla Sharks Mad Monday celebrations at Sauce wine bar in Coogee.
It was a different case for players from some of the other Sydney clubs who missed out on the NRL finals.
St George Illawarra and Parramatta were just some of the teams who got into the Mad Monday spirit.
Superstar Benji Marshall morphed into Ironman alongside Wolverine and a shy Cat In The Hat as they decided on the traditional Mad Monday style of putting costumes on rather than taking them off.

St George Illawarra Dragons celebrate Mad Monday Pic: supplied
After a three-from-three start to the season, the Dragons looked strong. However, the rest of the season didn't go as smoothly, with St George finishing 10th on the ladder after a loss to Newcastle.
Jason Nightingale said the team were wishing for a better end to the season than the 40-10 loss that they got against the Knights.
"It was a real disappointment. No one is happy about the way our season ended in Newcastle," Nightingale said.
"I think mentally maybe the game the week before against Brisbane really took a lot out of us being such a big game to try and qualify for the finals.

The Parramatta Eels celebrated their Mad Monday event at the Royal Oak Hotel in Parramatta.
"It has been a bit of a roller-coaster ride these past few weeks and across the season but we will definitely learn from it and be better for the experience."
While a small group of Sharks players continued with their end-of-season festivities today, they also joined the likes of the Wests Tigers who began their celebrations on Saturday night.
The Roosters, Sea Eagles, Rabbitohs, Panthers and Bulldogs will all have to wait a little bit longer before they can kick off their Mad Monday and perhaps premiership- winning celebrations after they all qualified for the first weeks of the finals.
https://www.couriermail.com.au/spor...topless-waitress/story-fniabosj-1227051974829