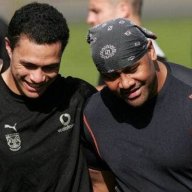 mt.wellington
Warriors Orange Peeler
Contributor
Thought Id start a thread on this topic. Every year we seem to have this discussion in the Warriors NYC thread and its one people feel passionate about.
Theres a boatload of young players leaving our shores for a chance in Australia's younger age group grades. There isnt a single club in the NRL that doesnt have an active scouting system in New Zealand.
There have been suggestions that the Warriors only seem to scout in Auckland, South Auckland in particular, and we are missing out on talent in other parts of the country.
Anyway, heres an article that I wanted to start this thread to share. Ive come across dozens but had no where to post...
Tokoroa: A league of its own

Tokoroa is well known for the league players it produces. Aimie Cronin meets some people in the town who are helping to form good men as well as good players.

Aamon Dean, left, and Dylan Clark.
Ask any of the boys sifting round the Pacific Sharks clubrooms on signup day what they want to be when they grow up. A grin comes first. Then they take a big breath like they are about to run and jump.
I wanna be a leaaague super staaaar!
League is the golden ticket. Tokoroa is a town that thrives when there's work for the working class and doesn't when there isn't. Last count says it has 13,431 people in it, the median income is $23,700, it costs around $150 a week for a rental. It's common for families to celebrate the first to go to university or to have none who have been at all. It's common to be related to someone who has "made it" in rugby league. Or to know someone, or to know someone who knows someone. And everyone has a relative who's at least played the game for money.

Local league heroes Dylan Clark, left, and Aamon Dean have a following in the club..
It's common, during a club game, for hundreds to come and watch even the littlest ones and for men and women to play drums on the sidelines in complete celebration of the game. League began as a sport for the workingclass man in England in the 1800s, but here in Tokoroa, it feels like this must be its home.
From the outside, it looks like a successful rugby league career is a chance for these kids to flee the town, but overwhelmingly, they say they want to stay, or come back after they've made it.
"We all love it here," says Torvi Aiturau, 12. "We all know each other."

Freewill Tangimataiti dress his 3 year old son Kayce for the muster.
"I wanna stay here forever, because it's my hometown," says Lopaz Glassie, 13. "I like it here. It's just quiet, y'know, not too much dramatics."
Today, these boys sign allegiance to the Sharks, then race off to play. Outside it's mucky rain. Someone skids and it becomes a game. Before long, the grass out front is a no-frills slippery slide and kids take turns surfing along it. Behind them, dozens have started a league game with several balls. The few white faces are brown with dirt. They are all soaked and they all scream and roar around and it looks like the kind of crazy fun only to be had when young. Their parents watch through glass with folded arms and smiles that say those were the days.
When Dylan Clark and Aamon Dean walk into the clubrooms, there's a feeling of Here they are. The one who's already made it by the town's terms and the one who will. Dylan Clark is head boy at Tokoroa High School. Average height, strong build, exceptional politeness, hair he smoothes to one side when he remembers. When others talk about Clark, they mention skill after personality. That's not to say he's lacking in ability, he's just really, really nice. Clark's just been signed to the Canberra Raiders. He could've gone last year to be part of the development squad, but he wanted to stay in his hometown and go for a leadership role. Next year in Australia, he will study business and sport alongside his league.

Peter Drury/Fairfax NZ
Tokoroa High School principal Willie Ford.
Clark is ferried over to the makeshift stage in the corner of the clubrooms for an interview with one of the older members. Most of the kids are outside, but the ones who are around are gathered to listen.He's asked about his message: "You can do it, too, bro. Train hard and keep at it, you'll get there."
He's asked to explain what he's going to do over in Australia, besides league: "When I go over, I'm going to uni."
He's asked to say it again - loud: "UNIVERSITY!"
"Ow, what a brainy," says the big man with the mic, "Put your hands together for this Canberra Raider."
Clark trots off happily to talk to his fans. Aamon Dean stays close to his brother.
Dean is 13, 6 foot 3, strong build, curly hair tamed down with a short cut, fuzz growing above his top lip, a constant look of surprise in his smile and eyes, a serious case of teenage boy shyness. He's the kid who has been kissed by the sporting gods and up till now, all he's had to do is grow.
Earlier that day, Tokoroa High principal and league man Willie Ford sat in his office and went on a bit of a rant about how it's important not to puff these kids up too much, because "when you start scoring a few tries, suddenly you're it. I used to see it when I played and that kid would start drifting down the bus, start drinking, start missing training, because his head's been filled up with rubbish!"
Say the name Aamon Dean to Willie Ford and he grins like a kid. You might as well have shaved 30 years off his life and handed him a league contract.
"He's gonna be a superstar, that kid."
Aamon Dean will play whatever sport is happening in front of him at the time and at the moment, his favourite of them all is league.
You can almost hear Tokoroa sigh in relief. Yes, he says, people tell him all the time that he's good, that he's the man, and he likes it, says it makes him play harder. Dean has been with the Sharks for years and his brother Aaron coaches the team he plays in. He's also involved with league at school level.
The Dylan Clarks and the Aamon Deans are the exceptions to the rule in Tokoroa. Clark more so, because he's got a league contract and he's going to uni. Who knows how the coming years will play out for him. They say less than 1 per cent make it from these towns and, academically . . . well put it this way: of the 52 kids who stayed on till year 13 at Tokoroa High last year, eight of them went on to tertiary education. Willie Ford wants to change all that and he has a plan.
When he was 15, Willie Ford left Tokoroa High School for a job at the Kinleith Mill, where he worked for over 20 years. He never liked school. He was a kid who felt he didn't fit anywhere, but in 1969, when the Pacific Sharks formed, he would go down and watch his uncles play and hold their bags and it made him feel cool. In '71, he started playing himself.
"It was the one thing that saved me."
He found the sport taught him time management, discipline. "It taught me to always get up when you get knocked over. That if you trained harder, you played better. If you turned up to every training and you gave it everything you had, people noticed and they put you on their team."
Ford played as a senior from 1974-97 and retired when he started teacher training.
Students at Tokoroa High call him Poppa Willie, or The Man. He is the first Maori/Cook Island principal in a school with a majority of Maori/Cook Island students. He has a way about him that is entirely unprincipal-like. He wonders if his success with kids stems from the fact they see themselves, their koroua, or dad, in him. Under his reign, the average NCEA pass rate is increasing. Under his reign, there have been league stars he's coached, mentored, managed. Some have gone on to prosper, a few are in jail or just about. He doesn't recoil from talking about them. In fact, he says, he's often wondered what difference it would have made if the approach he has now had been the approach he had then.
This year, Willie Ford has selected his league team based on attendance and attitude. He says some people think he's crazy, but he's super excited about it. He brings a list of names up on the screen in front of him and points: "This boy here has never played league in his life, this one's a real geeky sort of a kid, this one here is probably the smallest running on the field, this boy -
neat
kid, good kid this one, a very quiet sort of boy, a bit of a loner, but a
good
kid a
neat
kid. There are other kids who think they should be there - club people: no. We see, eh, other things. We see
attitude
, kids who just have something special."
When Ford has chosen a player based solely on these principles, he approaches. Most respond the same: But, mister, I've never played league in my life, and, Why me? Because, Ford says to them, "I've been in the game a long time and so has the head coach, and we see something in you."
The hope is that positive behaviour will be modelled for the boys who have missed out, that this approach will teach them to be better people, not just players. He talks about the boys he coached, now men in jail.
"Looking back on it, yeah, if I'd taken the stance I've taken now with attendance and attitude, it probably would've helped these guys, because it would've modified their behaviours. But I looked at them for their potential to get careers. They were OK with me, but out there, when you look at the bigger picture, they weren't good out in the school, they weren't good at relating to other people, so when they go into the wider world, the issues they have stuff up their careers . . . maybe I would've helped [some of] them if I'd taken this stance."
Some principals can overlook attitude or discipline because they want to win. Ford himself has done it. Warriors talent scout Moehewa Armstrong travels to schools and sees it time and again. He's looking for young men with "skills, size, speed, general knowledge of the game, the ability to read space, and a big part of what we look for now is attitude. We wanna know what they're like at school: Do they work hard? Do they turn up every day? They don't have to be dux, but they have to show a good work ethic."
He says Ford's approach to team selection is great.
"Willie is striving for excellence above success." And he says that Dylan Clark is just the type of kid who will succeed in today's league selections. The biggest challenge now is to get the team playing. In other years, Ford says, "We play one qualifying game in May or June and Kelston Boys always give us a game - and that's us."
He's trying to get his team into the Auckland competition and if he can, they will travel up every Wednesday. If he can't, Ford has decided he will ring around to ask individual schools, or just take the team up there hoping to play any spares.
"For us to be able to expose 10 of our boys to get contracts, for us to win the tournament, we gotta play regular."
There have been suggestions that the school and club join forces.
"If they wanna win this national tournament, they gotta talk to the clubs," says Dylan Clark's mum, Marama Tahapehi.
Ford says there is a different approach and focus between a school and club, and while the drinking culture that pervades many sports clubs might be fine for older, amateur players, he wants his boys to stay right out of it.
"They have a big party when they win, we have a feed and a stand up in assembly when we win."
A lot of the Toke kids play league for their school and club. Dylan Clark plays both and doesn't drink. He says his mates won't let him, because if he wins he wins for his town and they all want that. When Clark's career is over, he wants to come back.
"It's all good here," he says.
"Everyone knows each other in this town, there's something about it." He says if he goes on holiday, he just can't wait to get home.
https://www.stuff.co.nz/sport/league/67386425/tokoroa-a-league-of-its-own