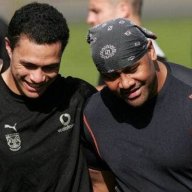 mt.wellington
Warriors Orange Peeler
Contributor
Joseph Vuna
'Play hard for me and mum' - proud Tongan father sends touching message to teen ahead of Warriors debut
Joseph Vuna's father has sent a touching video message of good luck to his son who has a chance to make his debut in the NRL tonight, after being named on the extended bench for the Warriors against the Storm in Melbourne.
'Play hard for me and mum' - proud father sends touching message to teen ahead of Warriors debut
Joseph Vuna, 19, has been named on the Warriors' extended bench for their NRL clash against Melbourne Storm.
The Warriors second rower's father sent words of encouragement via a touching video, while sitting next to a framed photo of his late mother.
"I can't come today and watch your game, play hard for me and mum," said Vuna's father.
Vuna is the younger player of former Warriors and Wallabies back Cooper Vuna.
The Warriors have won six games so far this season and sit second on the NRL ladder behind St George Illawarra.
https://www.tvnz.co.nz/one-news/spo...ds-touching-message-teen-ahead-warriors-debut