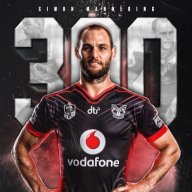 gREVUS
Long live the Rainbows and Butterflies
Contributor
I dont have a problem with the minutes he played, mainly because i'm yet to be convinced about his ability, although i would have him on the bench over Godinet.

I suppose there can be a problem with the bench rotation, when a team has so many quality forwards who can play long minutes. Do you end up rotating players just because
you have 4 guys on the bench so you better use them, rather than because your best forwards need a rest?

Maybe with Brown leaving next season, could Henry be the new second row/utility bench player.
this is the way i think it will go. Benry becoming our new super sub and having support/injury cover for the backs from Roparti