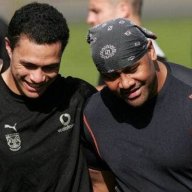 mt.wellington
Warriors Orange Peeler
Contributor
Hayze Perham commits to the New Zealand Warriors
21 Sep, 2017 8:00am

PROFESSIONAL: Rotorua Boys' High School first XV captain
Hayze Perham
has signed for NRL side the New Zealand Warriors. PHOTO/STEPHEN PARKER
Things might be looking up for the New Zealand Warriors as they have signed a young Rotorua player with all the makings of a future superstar.
It has been a tough couple of years for the Auckland-based NRL side, but this month they confirmed the signing of 18-year-old Rotorua Boys' High School first XV captain
Hayze Perham
.
"Obviously I know how big a change it will be going from schoolboy rugby to a professional lifestyle, so it is daunting but exciting as well,"
Perham
told the
Rotorua Daily Post.
"I've been playing rugby and league through school, but knew I had to decide between them this year. The turning point was the Warriors were able to offer me a fulltime commitment - the goal was always to leave school and fully focus on the craft, on improving and getting better as an athlete."
He said Rotorua Boys' High School had played a "huge" role in his development as an athlete.
"Looking at the other big rugby schools, they haven't supported league players in a rugby school as well as Rotorua Boys' have done. The rugby coaches and the principal Mr Grinter are really supportive of rugby players trying to make a career out of league - they don't cut down our options and I'm really grateful for them letting me choose my own path."
The highlight of his time playing rugby at Rotorua Boys' High School was winning the national top four tournament in 2015 and he was honoured to captain the side this year.
Like most young Kiwis, his ultimate goal in the long run was to play for the All Blacks, but he was looking forward to forging a career as a rugby league player.
"I've always followed the NRL, the game is really exciting. It's quite different, it's faster and I guess you could say more exciting at times.
"The base skills - passing and kicking - are the same, but the big difference I'd say is the tackling technique. It's a real technical aspect of league, like wrapping the ball, staying in tight and wrestling up top."
Rotorua Boys' High School first XV coach Ruki Tipuna said the Warriors had signed an exceptional talent.
"When I was at school I played with a lot of good players, some really good players who went on to be All Blacks. Hayze is as good as anyone I've played with or seen play at this stage. He's a really talented kid.
"He does a lot of things well, but if you had to pinpoint one it would be his attack, his ability to stand up defenders and his ability to beat a player one-on-one. But, he's also good at putting other guys away and setting other guys up, he's pretty unselfish," Tipuna said.
He will join the NRL squad at the end of the year, when he has finished school, and will be shoulder to shoulder with some of the world's best rugby league players.
"I'll be training every day with the NRL team and the coaches will decide if I play in the under-20s, the reserve grade or if I get called up into the NRL team."
He prefers to play in the halves or at fullback - positions currently filled in the Warriors side by Kiwi stars
Shaun Johnson
and
Roger Tuivasa-Sheck
.
"That was a huge factor in me going to the club - those are two of the best players in the world in those positions. I'm not really there to try and compete against them, it's more of a learning curve to absorb everything I can from them.
"It's a huge opportunity to not only get better on the field, but off the field as well. I'll be asking them a lot of questions and hopefully they're supportive of that."
Perham
said he was very aware of the fact professional sports careers could be short-lived and for that reason it was important for him to finish his education.
"They've actually been really good, they're letting me finish all my school work and focus on that before I join the team. You have to have a back up, you're one injury away from the end of your career so I'm trying to get my university entrance and have something there to support my league career."

LEADER:
Perham
was honoured to captain the Rotorua Boys' High School first XV this year. PHOTO/FILE
He said it was rare for someone so talented to also have such a desire to work hard.
"He's already a hard worker now, he's really grounded and humble. It blows me away, I wish I was a bit more like that when I was younger and I'm sure other people do as well.
"We're stoked for him, I'd love to see him play rugby because I'm a rugby man myself and he's a great rugby player, but we're really happy for him. It couldn't happen to a better boy and I'm pretty sure he will push on to higher honours."
https://www.nzherald.co.nz/warriors-league-team/news/article.cfm?c_id=360&objectid=11923634&ref=rss