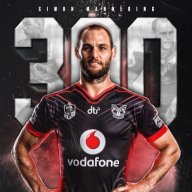 gREVUS
Long live the Rainbows and Butterflies
Contributor
Saw this as I was browsing Avatars for the SOO thread.
If im right that puts him into week 1 of the finals before he returns
Greg Inglis is facing up to eight weeks on the sidelines after suffering posterior criuciate ligament damage to his knee in Wednesday night's Origin decider.
Inglis injured his knee in the first half but opted to come out for the second, despite the pain and the chance of further aggravating the injury. South Sydney supporters will be sweating on the results of scans, which have been ordered for Thursday.
As similar injury sidelined Queensland fullback Billy Slater last year.
Morons
medico Dr Roy Saunders said Inglis didn't appear to suffer any further damage as a result of returning for the second half. Saunders described his effort to play through the pain as "very brave".
Click for more photos
State of Origin - Game III
Advertisement
<iframe id="dcAd-1-3" src="
https://ad-apac.doubleclick.net/adi...icle;pos=3;sz=300x250;tile=3;ord=6.4236587E7?
" width='300' height='250' scrolling="no" marginheight="0" marginwidth="0" allowtransparency="true" frameborder="0"> </iframe>
Asked how long he will be sidelined, Saunders said: "He will have more scans tomorrow to determine the full extent of the injury and that will determine how long he's out for.
"It varies, it depends on if it's an isolated injury or associated injury. Scans tomorrow will clear that up.
"It [can take] four to six [weeks], eight sometimes."
The news is a bitter blow for the table-topping Rabbitohs and Inglis.
The Bunnies fullback was a firm favourite to take out the Dally M medal as the best player in the game.
Read more:
https://www.smh.com.au/rugby-league/league-news/greg-inglis-suffers-knee-injury-in-origin-decider-20130718-2q51p.html#ixzz2ZLR5AF8J