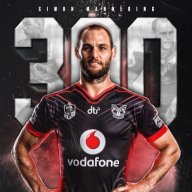 Long live the Rainbows and Butterflies
Contributor
I'm starting to get an emotional connection to the team in a way I haven't felt for years, and I think I'm falling in love with Roger but I still can't get Shaun out of my mind. This show is still better than Shortland Street.
See now if it was Frozen at least then I could sing - Let it go, Let it go ....
I'll show myself to the door.
I better put in something about the team or ill get told off. My biggest concern with NB taking the reins is that he is going to pull apart this thing that they warriors have built this year and replace it with all his mates from Aus, instead of working with something thats developing into something special with a little fine tuning.