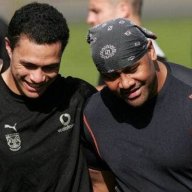 mt.wellington
Warriors Orange Peeler
Contributor
First Nations coach Daley names squad
Author Alicia Newton
Fri 15 Dec 2017, 05:36 PM
First Nations Goannas coach Laure Daley.©NRL Photos
First Nations Goannas coach Laurie Daley has named a 20-man squad for the upcoming Festival of Indigenous Rugby League clash against New Zealand Maori in February at Redfern Oval.
The fixture will mark the first coaching role Daley will undertake since he was sacked as NSW Blues coach in August, with the week-long celebrations to replace the annual All Stars fixture leading into the 2018 Telstra Premiership season.
The three-game event will feature both men and women's Maori teams for the first time, while the Newcastle Yowies (NSW) will play Queensland's Dhadin Geai Warriors in an interstate challenge clash before the main game.
Daley said the fixture would provide on-the-cusp Indigenous players the opportunity to impress on a larger stage.
Canterbury-Bankstown Bulldogs centre Brenko Lee was a graduate from the inaugural clash at McDonald Jones Stadium in 2014.
The men's Maori squad, coached by former Kiwis representative Mark Horo, features NRL experience in former South Sydney forward Anthony Cherrington and ex-Wests Tigers fullback Kurtis Rowe.
The Indigenous female squad will feature seven players from the victorious side that beat the Women's All Stars 14-4 in February.
Popular Indigenous All Stars elements will also form part of the Festival in the week-long celebrations, including the youth summit, a wellbeing and employment expo and NRL Indigenous players camp.
"Rugby League's indigenous ties are extensive throughout the game, with 12% of the NRL playing group identifying as Indigenous and more than 17% of grassroots players hailing from Aboriginal and Torres Strait Islander backgrounds," NRL General Manager of Indigenous Strategy Mark Deweerd said.
"The Festival provides an opportunity for communities to acknowledge and celebrate the next generation of Indigenous and Maori players outside of the NRL that are coming through the ranks.
"It will be a wonderful occasion as the teams run onto Redfern Oval next year – a site that has been a spiritual home for many Indigenous people over many years."
Squads for the men's and women's Indigenous and Maori teams are as follows (with all teams named in surname alphabetical order):
First Nations Goannas:
Isaac Briggs, Randall Briggs, Josh Charles, Brenton Cochrane, Wes Conlon, Adrian Davis, Greg Davis, Bennett Leslie, Tristan Lumley, Will Merritt, Zac Merritt, Wes Middleton, Maipele Morseu, Michael Purcell, Trent Rose, Dan Tanner, Justin Toomey-White, Noel Underwood, Kieran Vale, Ryan Walker. Coach: Laurie Daley.
First Nation Gems:
Layla Fauid, Sarah Field, Eunice Grimes, Tahlia Hunter, Rikka Lane, Samartha Leisha, Kazzia Lemmon, Tanika Marshall, Kiara Maza, Sharon McGrady, Stephanie Mooka, Kaitlin Moss, Carly Phillips, Amber Pilley, Paris Robinson, Taleena Simon, Ash Singleton, Rihanna Sutherland, Shakia Tungai, Shaylin Williams. Coach: Ben Jeffries.
New Zealand Maori:
Anthony Cherrington, Brad Clark, Zach Clay, Levi Dodd, Carne Doyle Manga, Patrick
Herbert
, Jake Jackson, Paoro Kemp, Jesse Malcom, Rulon Nutira, Piki Rogers, Kurtis Rowe, Manaia Rudolph, Dylan Smith, Reuben Taylor, Spike Teo, O'Shea Tuisua, Aussie Tuwhangai, Waka Wanahi, Clayton Williams, Parahi Wilson. Coach: Mark Horo.
New Zealand Maori Ferns:
Billy-Jean Ale, Jess Bennett, Aleasha Brider, Sherri Burgess, Teina Clark, Jocephy Daniels, Te Aroha Hapuku, Chanel Hundleson, Kerehitina Matua, Terehia Matua, Tanika-
Jazz
Noble, Lisa Rua, Jonsal Tautari, Karley Te Kawa, Kadison-Tyra Robertson, Liahona Wanoa, Geneva Webber, Kararaina Wira-Kohu, Sharnita Woodman, Suzanne Yee. Coach: Victor Heke.
Tickets for the Festival of Indigenous Rugby League are on sale now at
www.nrl.com/tickets
.
https://www.nrl.com/news/2017/12/15...quad-for-festival-of-indigenous-rugby-league/