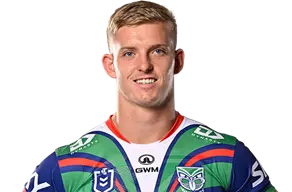 Welcome, Survivors! Challenge three is similar to the second. However, instead of forwards, you are now picking backs. And instead of metres, your team is trying to score points. You are to work as a team to create the most prolific try scoring backline. Points from goal kicks will not be counted - only points from tries and field goals. In addition, every line break a player makes during this round of NRL fixtures will earn an extra point for the tribe that selects him. Each member of your team must select an NRL player that is named in one of the following back positions from the upcoming round of matches, Round 24:
Fullback
Winger
Centre
Standoff
Halfback
The backline that scores most combined points in Round 24 will win immunity. The winning tribe will also receive a hammock for each tribe member to assist with their rest at camp.

Rules:
- Each competitor may name only one player, and must state the tribe they are representing and the position they are selecting, and the team which the player will be taking the field for on the weekend.
- Each NRL player may only be named once.
- Each NRL player selected must be named for Round 24 in one of the named positions above. This means that forwards who are named on the bench may not be selected.
- Each team must have only one player per position. If someone from your tribe has already selected an NRL player named in the fullback position, for example, you may not select another player named in the same position.
- Because the Wiki Tribe has two extra tribe members, two members must sit out for this challenge. No competitor may sit out two challenges in a row. Because Tajhay sat out the last challenge, he may not sit out this one. Nobody may take his place if he fails to make a submission.
- Post your picks in this thread before the Friday night game starts: 9:30pm NZT or 7:30pm AEST.
Example One said:

Jesbass for the Probst Tribe
Fullback - Webb (Warriors)
Example Two said:

Jesbass for the Probst Tribe
Centre - Mannering (Warriors)