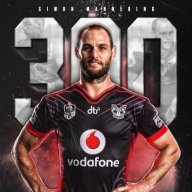 Long live the Rainbows and Butterflies
Contributor
Both to be honest. Crypto is a mix of forex, commodity and currency. So you can buy and hold eg gold, you can day trade like stocks etc, or you can leverage futures.
I do a mix of the first two.
I have bought stuff via crypto, but you can transfer crypto to fiat (money) and then use that money.

I dont cash out as much as I used to as I've already taken 4x out, but I regularly readjust my portfolio.

There currently 1300+ tokens/coins and only 3-4 of them are usable as a currency. For example I dont really use BTC, but I trade in it as a pair, so take 1 BTC , spread it around, then slowly take profit, end up with 2BTC and a bunch of other holdings that can be exchanged to BTC whenever.
i know i am treating BTC like gold, looking more at the long game as i got in so late. One of the reasons i like it is i actually understand it and how the scarcity value works with mining. When i look at so many of the others, i wonder what basis most of them have for value. ETH was described as a platform the other day and not a currency. I mean what the fuck is that?
Sounds like your on another level when it comes to this stuff Frank. Obviously know an informed group of people (same as Taj) who discuss it all the time and keep your eye out for opportunity. Unfortunately Its just me sitting at my PC going, Hmmmmmmm. And then playing with the 3d printer some more. The lack of income also means i have to be frugal with my money, but not to frugal as we still got a 3d printer for xmas.