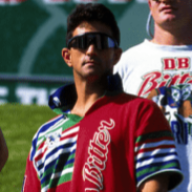 playdaball
Heritage Member
DEAN BELL: "Kids play sport because it's fun. But going by some of these recent comments, you wonder if people have forgotten that.
Warriors Recruitment boss Dean Bell flies out to the United Kingdom today on a three-week mission aimed at building closer ties with English league stars, their clubs and agents.
The Wigan legend and inaugural Warriors captain, who now heads the New Zealand club's recruitment strategy, insists he has no intention of using the trip as a chance to negotiate any potential signings for next season.
But during the next month, Bell will attend "about a dozen" Super League games and meet with leading player agents in a bid to ensure that, down the track, the Warriors are given chances to sign the best young British talent coming through the ranks.
"It's an opportunity to build good relationships with the leading player agents over there so that when the top UK players do come on the market, that we are better positioned," Bell said.
"Another reason is just for me to watch the games."
The last time the Warriors made any high-profile English signings was back in 1995, when Great Britain internationals Andy Platt and Denis Betts were lured on big contracts to New Zealand.
Across the Tasman, however, the recruitment of Super League players has shown no signs of abating, with the likes of Gareth Ellis, Sam Burgess and James Graham all plying their trade in the NRL.
Bell says the Warriors are pleased with how their 2013 squad is shaping up. He concedes any additional big-name signings for next year, hot on the heels of last week's announcement that Melbourne Storm centre Dane Nielsen is bound for Auckland, are unlikely.
"We are pretty happy with our 2013 squad. You never say never, but it's almost complete," he said.
"Our young players are getting better as well as a couple of imports that we are bringing in.
"I'm certainly not targeting anybody in particular.
"We won't get many players from over there because we are going to produce our own – that's where most of our players are going to come from, our development system.
"But if we are running our organisation's recruitment properly, we need to be aware of everybody out there and that they see the Warriors as an option.
"If another Sam Burgess, another Adrian Morley or another Gareth Ellis is out there, we want to make sure we are better positioned, if we need him, to bring him to the Warriors."
The move by the Warriors to broaden their horizons and develop closer ties to the English Super League has been applauded by former Kiwis coach and leading player agent Frank Endacott. He boasts a spate of English players on his books and says the Warriors will be well served by casting their recruitment net wider than just New Zealand and Australia.
"What I'd say about the Warriors or any other club looking at English players is that it's a good time right now to get English players.
"The reason being is that the offshore tax incentives for overseas players aren't there anymore and the exchange rate favours playing over here now.
"There's every reason for English players wanting to come over.
"I applaud the Warriors for looking because they might just come up with the one player they need for a certain position." Bell says he will also use his time in England to float the idea of the Warriors taking on English clubs in pre-season fixtures.
"It's also a chance to probably look at the opportunity, maybe in the future, of having a pre-season game against Wigan or Leeds or a club like that," he said.
- © Fairfax NZ News
www.stuff.co.nz
A great move but it has taken a while. Would not only be a good opp to pick Englishmen but also returning Aussies / Kiwis with a season or two left i.e. Kevin Campion