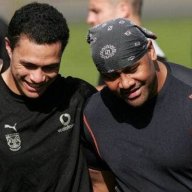 mt.wellington
Warriors Orange Peeler
Contributor
17 Martin Moana - ??? Think he's still living in Halifax, UK
Believe he is living in Halifax. He was living there with his family just last year. His son Jordan was actually signed as a Leeds junior but Im not sure as to the status of that now. The article I got that info from was from 2011. He seems to have been still with them this year after a post on his Instagram account.
The article I referred to had this little snippet on Martin but again its from 2011 so who knows whether its current?
He remained with the Lions until his retirement at the end of the 2009 season and now works for the club on the development front and also in a commercial capacity.
Always being active, he still gets his adrenalin pumping with a game or two of rugby union these days for Heath in the Yorkshire League competition.
Plus, he now coaches the New Zealand Masters rugby team that plays mainly in the spring and summer months for enjoyment and supporting charities.
https://www.brighouseecho.co.uk/sport/local-sport/jordan-follows-in-dad-s-footsteps-1-4001718
This is the most recent photo I could find of Martin from September this year. Martin on the left and his son Jordan on the right...
​
UPDATE...
Got a reply from Moana's son who confirmed that Martin is still living in Halifax. When asked what work he was doing he said 'nothing much'???
​
Last edited: