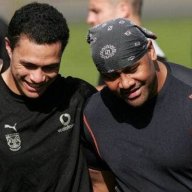 mt.wellington
Warriors Orange Peeler
Contributor
A month ago

Shaun Johnson

and hurrell looked like they were mounting late challenges but injury killed their chances.
I didnt even add Konrad Hurrell to the poll. Lets be honest. Coming back from the offseason overweight and having a clip of him getting a blow job while driving has totally killed his chances.
Still a runner for the Peoples Player. Really its only between him,
Shaun Johnson
or the old crowd favourite Manu Vatuvei. It is a popularity contest after all.
Wonder if we have enough numbers here to rig it and get Dane Nielsen or Carlos Daley over the line lol..