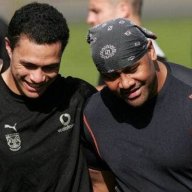 mt.wellington
Warriors Orange Peeler
Contributor
A special new black and silver logo will distinguish the Vodafone Warriors from the other 15 NRL clubs in 2014.
Last season the club's jerseys carried the traditional Vodafone Warriors logo on the left chest and an Australian-flavoured green and gold one on the right chest which also featured the five stars on the country's flag.
The design wasn't well received by Vodafone Warriors supporters but come next season the Vodafone Warriors will sport an NRL Telstra Premiership logo of their own on the right chest of the jersey.
Theirs will be black and silver while all other 15 clubs will wear a green and gold version.
This logo is on all kit due to be released in mid-November. Apparel is available on pre-order on
www.warriors.co.nz
now.
New NRL logo for Vodafone Warriors - New Zealand Warriors
I know the catalogue is out so lets get those contacts working and get the inside scoop on this please guys...
Last edited by a moderator: