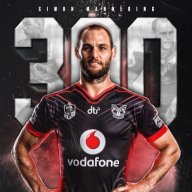 Long live the Rainbows and Butterflies
Contributor
Yep I was thinking that as well. I think it will make the game more exciting but it does punish a dominant defensive team. You could have a perfect kick into the in goal. The opposition takes 4 tackles to get to their own 20m line and then someone like Cameron Smith kicks a 20/40 and get the ball back way up the field. He is the person who can take advantage of this the most in my opinion.

But it does make the game more exciting for the fans which I think is the most important factor here and teams with fast men on the outside can create havoc.
But teams like the Warriors won't benefit from it without an accurate long range open field kicker (and no fast wingers).
i actually see a number of factors in this, one of which is fatigue on the wingers, having to drop back again and again so that they dont try the 20/40 will affect them, as such you cant rely on them for the number of carries that they are currently doing. Them droping back will create space as has been said for teams that arent as physically dominant to allow speed back into the game.
the rule i think will make little to no difference is the tackling the attacking player in midair. Given that they come and go on allowing shepherding it probably wont make a lot of overall difference. Another one of those rules where they dont police it evenly anyway so why bother. I mean can you imagine anyone using a captains challenge for a shepherd?
And last of all the captains challenge. I wonder what it will apply to. Yes i know im famous for blaming bad calls at the end of the game for stopping the warriors from being in the top 8 this year, but that challenge could have made a massive difference to the outcomes of several games. However a bad call in the last 5 minutes of a close game will always have an affect, so i can see teams using this to break momentum in the last part of a game even if it wasnt necessary and thus just becoming another tactic.